Pub benches wash up 39 miles away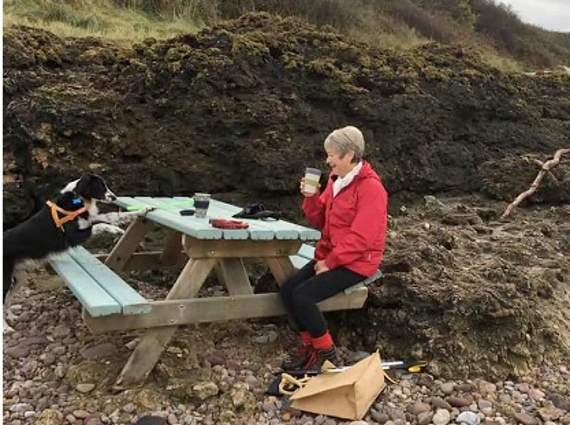 The bench provides a beach of a view. Photo: Turn the Tide Portishead.
Subscribe newsletter
Subscribe to our email and get updates right in your inbox.
DRINKERS are raising a glass to a pub's garden benches which floated away in the floods only to wash up on a beach 39 miles away.
Even more remarkably, staff at Ye Olde Ferrie Inn on the River Wye at Symonds Yat West found out about their whereabouts in Portishead near Bristol after someone who got married in the pub spotted them.
A total of 10 benches were lost in the flooding, with two of them later washing up in Portishead, one of them upright ready for people to sit on.
Pub manager Jamie Hicks said: "We really thought we would never see them again.
"The weird thing was that a friend of mine who got married in the Ferrie in 2016 lives in Portishead and spotted the bench on the 'Turn the Tide Portishead' social media page and then messaged me."
The Wyeside pub had already posted: "After the floods some of our benches ended up going down the river... today we found some of them washed up in Portishead.
"That's an unbelievable distance to travel downstream and across the Severn Estuary!"
The picnic tables were supplied by local timber merchants Walford Timber eight years ago, and business owner George Smith said: "We know our products and workmanship are great, but we were thrilled to hear just how sturdy our picnic tables could be when some washed up on a beach 39 miles away."
The pub is now planning to order replacement benches.
The two washed-up benches were spotted by the Turn the Tide volunteer group, who clean up the beaches of Portishead, and who posted on Facebook that they had beached on their turf.
One of them was even standing up perfectly after its 39-mile adventure, giving the beach team a perfect spot for a picnic.
Turn the Tide spokeswoman Ness Churn said: "I had coffee there with my brother last night as the sun went down.
"It has landed perfectly on the beach against the rock, you've got a view of Black Nore Lighthouse one way and the sunset, and the other way to Portishead lido and out across the water to Cardiff," she added.
"Honestly it couldn't be in a better place, we love it."
Water was chest deep in the Ferrie Inn's cellar in the recent flooding, leading to the pub having to close temporarily. But it reopened after two days and is looking forward to a busy festive season.
Jamie added: "The cellar was completely flooded, it's the worst I've seen in nine years here."
Comments
To leave a comment you need to create an account. |
All comments 0