Clock tower goes green for recycling campaign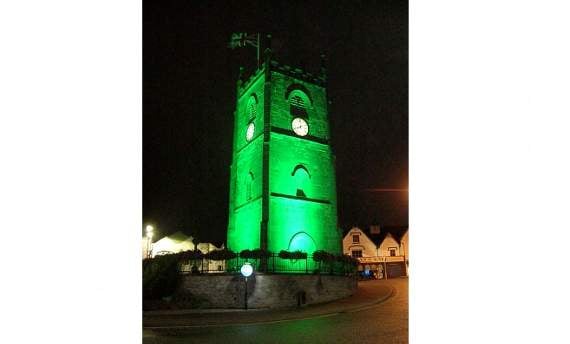 Coleford Clock Tower is going green.
Subscribe newsletter
Subscribe to our email and get updates right in your inbox.
TIME is ticking on saving the planet from global warming, say environmentalists, and a town's landmark clock tower has been illuminated green this week to reinforce the message.
Coleford Clock Tower is going green as part of this year's Recycle Week, which asks people to "take recycling into your own hands".
Residents in the Forest of Dean are being urged to get behind this year's campaign (September 23 to 29), which is delivered by Recycle Now on behalf of the Waste and Resources Action Programme (WRAP). 
Councillor Sid Phelps (Green, Lydbrook), Forest Council Cabinet Member for the Environment, said: "We are delighted to be supporting this year's Recycle Week. 
"What and how we recycle really matters. Recycling an item rather than throwing it in the general rubbish bin means that it will be dealt with in the most environmentally friendly way, keeping materials in use and out of the natural environment.
"While ultimately we want to see everyone consuming less packaging, if every resident in the district recycled just one more plastic bottle a week that would mean four million more bottles making their way to be recycled. 
"WRAP estimates that this would save enough power to run a typical primary school for almost two years," he added.
"The district council provides a weekly kerbside recycling service to every household, but we know that there are some residents who still choose not to take part. 
"But it is down to each and every one of us to take on the responsibility of looking after our planet, and recycling is just one way the public can make a difference."
Also attending Monday's launch at the clock tower, Coleford mayor Cllr Nick Penny added: "Buildings and landmarks up and down the whole of the country are turning green to celebrate this year's Recycle Week. 
"We have therefore been delighted to work with the local waste team at the Forest District Council to light up Coleford's iconic clock tower to show our support to this worthwhile initiative. 
"Whether you live in the town or in the wider district, the environment affects us all and we hope by promoting national Recycle Week we can encourage even more people to take part," he added.
Craig Stephens, campaign manager for Recycle Now, said: 'This year we've all taken more notice of our impact on the environment, and realised that recycling is part of reducing that impact.
"Here in Gloucestershire it's no different – more and more of us are recycling, so the next step is to make sure we get our recycling right."
Latest Recycle Now research reveals that more than 60 per cent of UK households are now recycling more than they were a year ago because of environmental concerns, with programmes such as Our Planet and global figureheads such as teenage activist Greta Thunberg and Sir David Attenborough encouraging action. 
Anyone who is unsure about what can be recycled or when their kerbside collection is due can find out more at www.fdean.gov.uk
Recycling containers can be ordered by contacting the customer services team on 01594 810000 or by going online.
Comments
To leave a comment you need to create an account. |
All comments 0