Farewell to UK's 'last' Spanish Civil War hero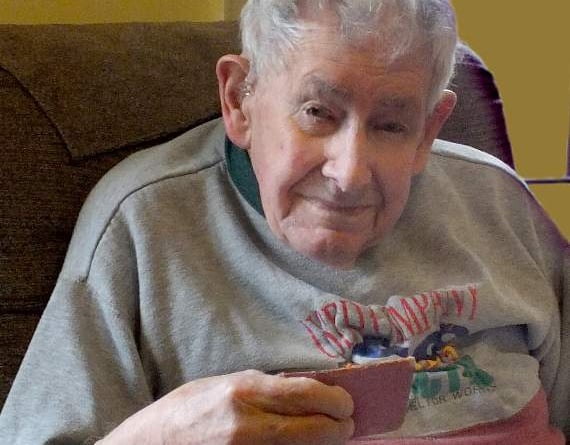 Subscribe newsletter
Subscribe to our email and get updates right in your inbox.
A SPANISH Civil War veteran who was thought to be the last surviving British International Brigades volunteer has died at a Forest care home at the age of 99.
Geoffrey Servante, who passed away on Monday, April 22, at the Euroclydon care home in Drybrook, joined the Republican forces aged 18 in 1937 after accepting a £100 bet in a Soho pub that he could get into Spain and sign up.
Eighty years on in 2017, after listening to a report declaring the death of the 'last' IB soldier, he said: "I heard on the radio there were no more International Brigades left, and I said, 'Well, that's nonsense. There's still me.'
"I was in a pub and a chap was saying the French had closed the border and no-one could get across or into Spain to join the International Brigades," recalled the father-of-one, who fought as an artilleryman during the 1936 to 1939 conflict against Franco's Nationalist forces,
"I said I bet you £100 I can. So it started with a bet. I wasn't politically inclined at all, but I had a seaman's ticket because a bosun had given me a trip on a Canadian Pacific ship.
"I sorted out the shipping line and found out MacAndrews was sailing to both Francoist Spain and Loyalist Spain.
"So I jumped ship at Valencia. I said I wanted to join the 'Internacional Brigadas', the only Spanish words I knew, and they took me to an office where luckily someone spoke English."
The officers gave Geoffrey a ticket to Albacete where the International Brigades headquarters was based and he was assigned to an Anglo-American unit near Toledo.
He survived a few near misses but recalled once scoring a direct hit on a fascist officer's car, despite his battery having just polished off a barrel of the local brandy.
In early 1939 they were withdrawn to Valencia, then on to Barcelona, from where a narrow gauge railway took them half-way to the frontier before a hazardous 80km walk to France, constantly harassed by Nationalist aircraft.
After returning to the UK, he sadly never cashed in his bet, as the man who'd wagered him to go to Spain had died.
Within a year he was back in uniform in World War II, spending three years in Egypt with the Royal Army Ordnance Corps and the Royal Electrical and Mechanical Engineers.
After demobilisation, he worked for Marshalls, reconditioning military lorries, before joining Vauxhall Motors in 1957 where he remained until he took early retirement 20 years later.
Granted honorary Spanish citizenship in 2009, he still took a keen interest in the country's afairs and voted for Catalan independence in 2017's controversial state referendum after being "appalled" by police violence.
Mr Servante said at the time: "I went up to the Spanish Embassy and got sworn in. I was asked where I wanted to be registered, so I chose Barcelona. So I'm Catalan."
The funeral of Mr Servante, who had two grandchildren and three great-grandchildren, is at the Forest of Dean Crematorium on Thursday, May 30. Funeral-goers have been told they can wear something colourful.
Comments
To leave a comment you need to create an account. |
All comments 0