Full steam ahead for vintage show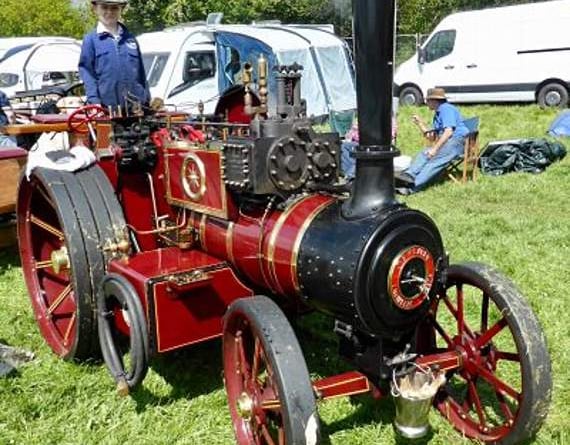 Oliver Maunder, aged eight, enjoyed getting hands on with a half-size McClaren road loco.
Subscribe newsletter
Subscribe to our email and get updates right in your inbox.
AROUND 5,000 people flocked to the annual Border Counties Steam and Country Show beside the banks of the River Monnow in Monmouth.
Some 700 exhibitors from all over the country attended the weekend event organised by the Border Counties Vintage and Steam Club, which was formed 44 years ago in Symonds Yat.
The show has been based in Herefordshire, Gloucestershire and Monmouthshire over the years, beginning its days at Symonds Yat's Old Court Inn before moving to the Speech House in the Forest and then onto Vauxhall Fields in 2008 as it continued to grow.
Club chairman and show organiser Ian Harper from Trellech said: "It was a little bit cold with the wind on Saturday but lovely on Sunday, and there was a pretty good turn out over the two days. Probably not as many as last year, but it was 29C then.
"A family steam car was a first for the show, and we had rare old police cars like a Morris 1000 panda and a Ford Prefect, while the oldest attraction was probably a Burrell steam traction engine dating back to 1909.
"With the country side of the show as well, there was something for all the family.
"We had a great collection of vintage cars and engines, plus animals like donkeys, lambs, a falconry show, the dog and duck team and the Wildlife Trust brought their quails.
"Vauxhall Fields beside the river and opposite Monmouth Castle is an ideal location for the show.
"It's a beautiful setting with great views and just a few minutes walk over the pedestrian river bridge to the town, which always boosts local traders. The event brings a lot of people into town, with visitors from as far afield as Devon and the East Midlands.
"The exhibitors love it, because it's one of the first shows of the year, and they are keen to get out and show their engines."
Monmouth schoolboy Oliver Maunder really got into the spirit of the event, donning overalls and a flat cap to help out with a half-size McClaren road loco.
The eight-year-old, who is a member of the Apprentice Steam Club, said: "I love the smell of the engines and the smoke, and I'm really interested in the engineering and how they work."
Brian Bedford was showing his 1952 Ford Prefect police car, which recently played a starring role on a TV crime documentary.
"We think it's the only surviving Ford Prefect police car and that it originally belonged to the Herefordshire Constabulary.
"It was filmed beside the River Wye recently to recreate a scene for the finding of a body in a documentary on the 'Jack the Stripper' murders in London in the 1960s.
"It's cost me £8,000 doing her up over 13 years, but now I hire her out for weddings and other events."
Comments
To leave a comment you need to create an account. |
All comments 0