Horse logging makes comeback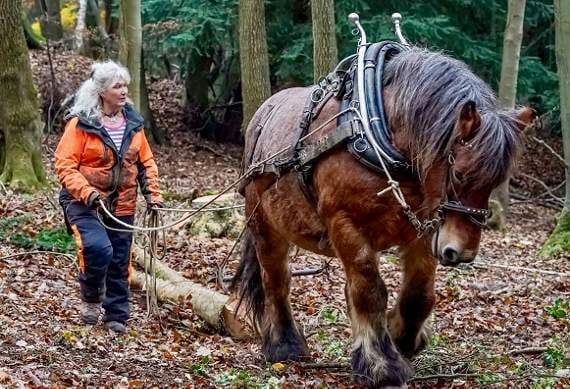 Kate Mobbs-Morgan in action with her horse at Symonds Yat West.
Subscribe newsletter
Subscribe to our email and get updates right in your inbox.
THE ancient art of horse logging is making a comeback in the Wye Valley.
Using horses for forestry work all but died out in the 1980s, but is on the way back as an environmentally friendly way of preserving sensitive landscapes.
The Woodland Trust recently hosted a display of traditional forestry work from Monmouth-based Rowan Working Horses, in an ancient Symonds Yat West woodland.
And WT site manager Richard Brown said: "Horse loggers help remove the felled timber from the woodland where modern forestry machinery would struggle.
"The steep slopes of these woods are riddled with the relics of its industrial past with pits, collapsed shafts, spoil heaps and litter from historic mining.
"It would be impossible for modern forestry machinery to work this site.  
"Using heavy horses like these is great because they cause less impact to the woodland floor and can manoeuvre more easily on slopes and around trees. It is also great to watch them work."
Horse logging, which uses traditional breeds such as Ardennes, is specifically designed for agricultural tasks to move felled timber, ensuring minimum disturbance to the woodland floor.
Symonds Yat West would have been a hive of industrial activity from Roman times until the early 20th century, with both lime and iron ore being extracted from below the thin soils.
These raw materials would have been processed within the gorge, with limekilns, bell pits and foundries found just a stone's throw from the wood.
Although coal was extracted from the Forest of Dean, charcoal was the main fuel for these industrial processes and much of the Wye Valley woods were managed under coppice for the production of charcoal.
Looking at the landscape now, it is hard to imagine how intensively industrial it would have been just outside of living memory.
But once this activity ceased, the woods developed a dense canopy of trees all with an even age structure, causing heavy shade and a subsequent loss in biodiversity.
The felling work will help to break up the even structure of the canopy, create rides and glades and increase light for woodland flora and invertebrates.
The site is designated an SSSI, along with many of the Wye Valley woods, for its rich flora and unique wildlife created by the limestone cliffs.
Today, there are more than 15 full-time horse loggers in the UK, and an estimated 1,000 people working part-time in the industry.
Kate Mobbs-Morgan, who heads-up the Rowan Working Horses team of Kipp and Sol, said: "This wood was a real delight to work in, such a beautiful spot, and now that the ride has been opened up we have already seen birds of prey making full use of it."
Comments
To leave a comment you need to create an account. |
All comments 0