Researchers say boar pose threat to biodiversity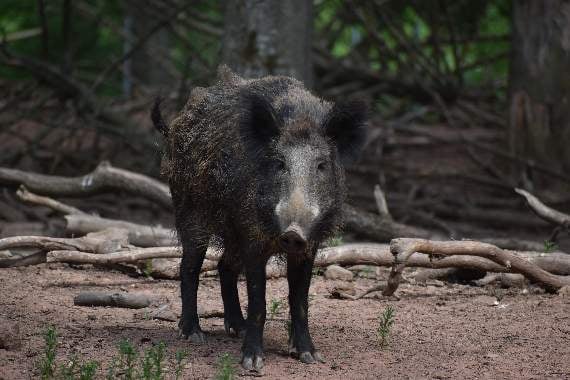 Subscribe newsletter
Subscribe to our email and get updates right in your inbox.
WILD boar pose a bigger threat to biodiversity than previously thought, a team of researchers have concluded.
The researchers from the University of Hawai'i and the Royal Melbourne Institute of Technology University say that globally boar threaten hundreds of species of birds, amphibians, reptiles and plants.
The Forest of Dean is home to the largest population of boar in England – estimated at 1,172 animals in 2019/20 – and the Forestry Commission has acknowledged that at high density the pigs "could be damaging to specific species in the long run".
Lead author Derek Risch, of the Hawai'i Wildlife Ecology Lab, said: "Wild pigs are unique among other species since they are herbivores, top predators, and ecosystem engineers, modifying ecosystems by digging and rooting.
"We found that in addition to the over 300 plant species threatened by wild pigs globally, wild pigs actively predate and destroy critical nesting sites for hundreds of threatened and endangered reptiles, amphibians and birds."
The team of researchers hope that their findings will shed light on the magnitude of threat wild pigs pose to global biodiversity when compared to other problematic species that receive greater research and management attention like feral cats, rodents and wild dogs.
The research team looked at existing studies and the international "Red List" of endangered species to reach their conclusions which were published in the journal Scientific Reports.
They found that in Europe, seven bird groups six invertebrate groups, 16 groups of plants and four reptile groups – but no mammals – were at risk from boar.
The researchers said: "... the quantity of at-risk species threatened by wild pigs represents a serious threat to biodiversity that has been indicated throughout the literature but had not been previously quantified."
They say the impact of boar is not easily quantified – which echoes what Forestry England has said about the effect of boar on butterfly sites in the Forest.
It has said that while several important butterfly sites that have been repeatedly rooted over at the same time butterfly counts have seen declining numbers, proving cause and effect is not easy.
The researchers say their analysis suggests nearly five times more plant and animal groups are threatened by wild pigs than a study from 2016.
Wild boar became established in the Forest after some animals escaped from a farm near Ross in the 1990s and in 2004, a group of about 60 that had been reared on a farm were illegally released by 2009.
By 2009 the two groups had merged and the population was thriving, with numbers increasing from an estimated maximum of 150 in 2008 to a peak of 1,635 a decade later.
Forestry England wants to reduce the number of boar on its land to around 400 and has been using a controversial cull for several years to stop the rate of increase.
Comments
To leave a comment you need to create an account. |
All comments 0