Why oh Wye did this happen?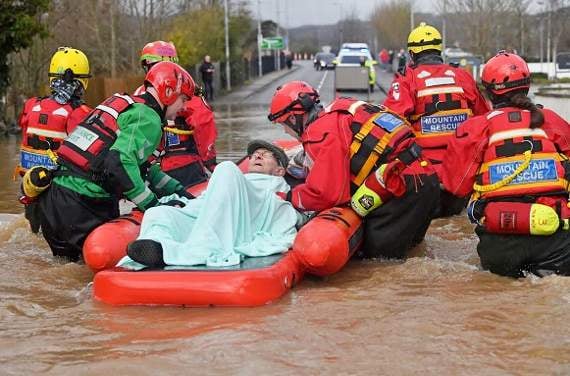 Mountain rescue volunteers ferry Pete Morgan to safety after evacuating him from his Monmouth house near the River Wye. Photo Ben Birchall/PA wire.
Subscribe newsletter
Subscribe to our email and get updates right in your inbox.
RECORD flood levels on the River Wye saw householders and businesses forced to flee their premises as rescuers moved in to evacuate the stranded.
A 62-year-old woman who drove into floodwater and broke down near Bigsweir Bridge was rescued knee deep from the roof of her car by three passers-by after a terrifying 12-hour ordeal surrounded by the rising waters.
Mountain rescue volunteers also helped 89-year-old Monmouth man Pete Morgan to safety on a liferaft after his home flooded near Wye Bridge on Tuesday (February 18), while residents of the nearby Riverside retirement park were also helped to safety.
The whole ground floor of Monmouth Rowing Club, including the gym, changing rooms and a boat bay were flooded to the ceiling, with boats worth more than £30,000 wrecked, and the flood gates couldn't stop the new Monmouth Leisure Centre also suffering.
The 400-year-old Wye Bridge was closed to traffic for more than a day with the A40 pedestrian subway under water, and other closures saw the dual carriagway between Dixton and Ross-on-Wye shut to traffic.
Monmouth's water treatment plant was also submerged, leading to tankers converging on the town for nearly a week to pump clean water into the mains to try and keep residents supplied alongside bottled water deliveries to hundreds of homes.
Geoff Handley, 63, from St Briavels was walking his dog around 8.30am last Wednesday when he spotted the freezing woman crouched in water on the top of her car.
He alerted Coleford oil company worker Mark Smith, 51, who stripped off his top and waded into the water to help the woman.
Then Geoff, his son Adam, and Mark's 25- year-old colleague Richard Harris joined them to get the women to a steep grass bank, where they tried to warm her up before emergency services arrived.
Geoff said: "She looked dead to us and she was drifting in and out of consciousness," said Geoff, who sent his son Adam to their house to get blankets and coffee as he and the other two kept rubbing her hands and hugging her to get her warm before SARA rescuers arrived to ferrry her back to the other bank in a launch.
Mark told the Victoria Derbyshire programme on BBC2: "I could hear someone shouting for help. She was half in the car and half in the water.
"I just pulled her up and cuddled her to keep warm; it seemed like forever and a day. It was a bit worrying, really, I tried to hold her on the car but we kept slipping as the car was totally underwater."
The woman was taken to Gloucester Hospital and the last Geoff heard, the woman, from Lancashire, was sitting up having a cup of tea.
The Wye saw record levels of water in the wake of Storm Dennis, with 7.2m on Tuesday smashing the previous 6.48m highest level.
Pete Morgan was rescued from his Wye Valley Road flooded house by Long Town and Central Beacons Mountain Rescue, backed by the Welsh Ambulance's Hazardous Area Response Team after waking to find three foot of water downstairs.
He was taken to the Shire Hall, which was transformed into an evacuation centre.
The ancient Dixton Church and neighbouring Agincourt School were also flooded, along with the Lidl store's car park.
Further upstream, the fields around Ross-on- Wye were totally submerged, cars were underwater in Lydbrook and parts of Symonds Yat were deluged again, with residents at the Whitchurch House care home evacuated and the historic Saracen's and Old Court inns and several houses feet deep in water.
The Saracens posted: "Well folks, here it is... the mother of all floods, our worst nightmare... During the three decades we have owned The Saracens Head Inn, this is the highest river level we have ever witnessed."
Many roads were rendered impassable, including sections of the Wye Valley road, while the Buckholt road to Hereford was closed following a landslip and a collision between two lorries.
A sign connected to Biblins Bridge was found swept up on a beach 40 miles away in Portishead after the Wye almost sumberged the wooden suspension crossing, which is now closed.
There was also flooding before the Wye burst its banks, with several sports clubs in Lydney underwater after the Lyd flooded. The town's cricket, rugby, football and tennis clubs all suffered, with online appeals to repair water logged clubhouses, pitches and facilities already raising in excess of £20,000, while Ross Rowing Club has also launched an appeal.
Monmouthshire Council leader Peter Fox said: "I would like to thank all our partner agencies who are working hard to keep people safe.Support and coordination from all emergency services has been excellent."
Comments
To leave a comment you need to create an account. |
All comments 0