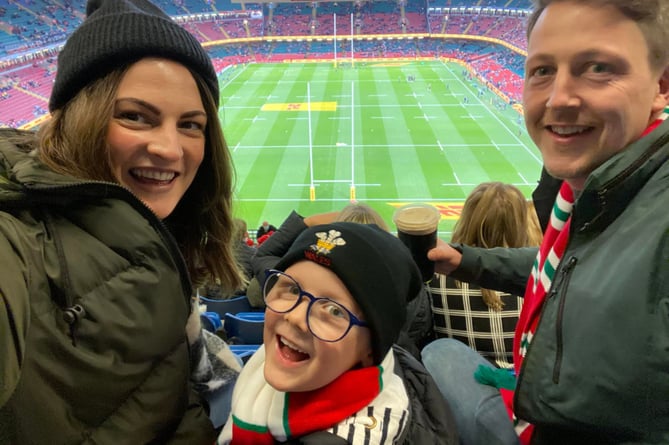 Subscribe newsletter
Subscribe to our email and get updates right in your inbox.
RUGBY chiefs have apologised after a drunken fan vomited on a six-year-old Chepstow boy at his first Wales match last Saturday, leaving him in floods of tears.
Excited youngster Joey Delaney was watching Wales against Australia when a man sat behind him threw up sending vomit "everywhere".
The incident, alongside pitch invasions at the New Zealand and South Africa matches and another boy being showered in beer, has led to calls for a complete alcohol ban at the Principality Stadium for rugby matches, in line with football.
A Welsh Rugby Union spokesperson said: "We are very sorry to hear about the family's experience and would like to apologise to the Delaneys...
"We will review the steward's report on this incident and will be in touch with Mrs Delaney to further understand what happened.
"The vast majority of fans enjoy themselves in a responsible and considerate way.
"It is policy for our staff to intervene if people are visibly intoxicated - this happens in three main areas: The turnstiles, at the point of sale if they try and buy alcohol, and in the stadium bowl."
Joey's mum said the man was so drunk he could barely stand, let alone apologise.
"Joey was unbelievably excited to watch his first Wales match for his first time in the stadium," she said.
"However his experience was nearly ruined by the guy sat behind us who was so drunk he vomited all down the back of our son, all over the floor behind us, and all down the back of my coat.
"My son's coat, Wales hat, scarf, and seat were covered in this man's sick.
"He was so upset and shocked, he cried so much - I had to stop myself from crying from seeing my son so upset and from the absolute shock of it all.
"The amount of vomit was unbelievable and the guy was slumped over his seat. He couldn't even talk or hardly open his eyes.
"We absolutely understand that people enjoy a drink during the match with the majority acting 'merry', but being that drunk and posing such a risk to others (most importantly children) is not acceptable."
Rugby journalist Peter Jackson called the Principality Stadium the 'world's biggest pub', while former Wales star Ian Gough labelled the incident "horrific" and called for a clampdown on "over the top" fans.
"It's something that does need to be addressed, but again it needs to be a balance - if someone is too drunk then they're told they have to leave," said Gough.
He urged stronger enforcement against those drinking to excess, saying "a lot of people would be very opposed" to not being able to enjoy a match day pint.
Comments
To leave a comment you need to create an account. |
All comments 0