Hundreds hitting 'lethal' A48 speeds
Thursday 20th January 2022 7:00 am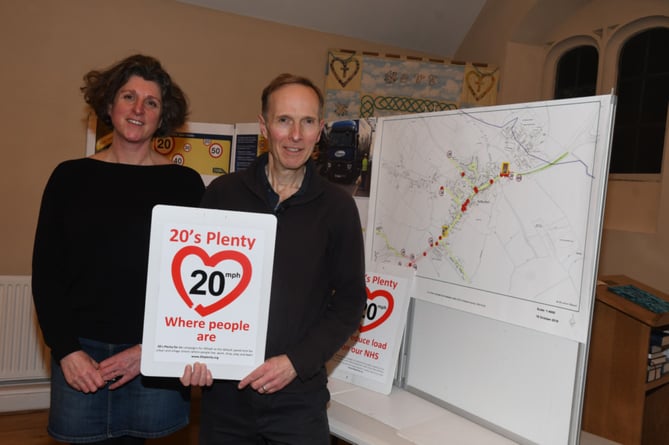 Subscribe newsletter
Subscribe to our email and get updates right in your inbox.
MORE than 200 vehicles a day are travelling through a Forest village at speeds that would probably kill a pedestrian in a collision.
While campaigners in Aylburton acknowledge that some of those will be emergency responders on blue lights, they say high speeds pose a significant risk.
And they say the survey which found 225 vehicles travelling at 36mph or more was taken on the 'slowest' part of the A48 through the village.
A public meeting held in the village on Tuesday evening (January 11) was told that at speeds of more than 35 miles the likelihood of a collision killing a pedestrian was more than 50 per cent.
The meeting at the Methodist Church organised by Aylburton Parish Council also heard that at 40mph, 90 per cent of collisions were fatal.
Villagers want to see a range of measures to reduce speeds including a 20mph limit through the village, a state of the art speed camera, zebra crossing and extension of the current 30mph zone.
Introducing the campaign, parish councillor Mark Topping said: "Gloucestershire County Council did a survey outside the hall here which found 12,000 vehicle journeys a day along the High Street.
"If you add in the rest of the village its more.
"The average is that every day 225 vehicles drive through the village at 36mph or more - through the slowest part.
"They are doing lethal speeds.
"All they would tell us is that the average speed is 29mph - in other words you haven't got a problem
"We know this is the slowest part of the village so there must be people going fast to give the average of 29mph."
Another speed survey on the road between Aylburton and Alvington was 58mph - just inside the 60mph limit.
Cllr Topping said: "If the average speed is 58mph you can be sure they will be doing some phenomenal speeds on that road.
"Even if they are doing 60 they are approaching our village fast, downhill.
The first thing they meet is Sandford Road and children getting to the bus.
"They are having to take their lives in their hands.
"The plan is that we insist on a 30mph limit before Sandford Road, only a few hundred yards before you get into the main part of the village.
"The big prize would be 20mph for the whole length of the High Street."
Cllr Topping said the 20mph limit would only be effective if it was backed up by camera enforcement – and only economically viable if it was part of a county-wide programme.
He said: "We would have a serious piece of traffic calming in the form of this camera which would bring people down to 20mph or something very near it.
"This camera takes the registration number and speed on both sides of the road day and night so would affect more traffic.
"That would be a powerful way of encouraging people to comply with the speed limit."
He said the area's county councillor, Alan Preest, and Gloucestershire Police and Crime Commissioner Chris Nelson had both said they would contribute to the cost of buying it.
Aylburton Parish Council has also put aside £1,200 which would meet the annual running costs.
But he said the cost of legal orders for a new limit could be prohibitive unless it was done across the county.
"A traffic regulation order is about £20,000 so we would have a bill of several hundred pounds per resident of Aylburton which we can't afford.
"Our call is for it to go county-wide because then the cost of it is shared, so it will be a few pounds per head.
"We need to argue that this road where people live is appropriate for 20mph."
He said the advisory 20mph limit at the start and end of the school day was an acknowledgement that speed was an issue.
The meeting was attended by around 30 residents who indicated they would support measures to reduce speed.
It was pointed out that other villages on the road, such as Newnham, already have a zebra crossing and there is also one across the A466 at Redbrook.
Mrs Liz Day, from the Methodist Church, said she stood in the road to help people cross to get to services at the church.
Residents also said that the majority of the population lived on the opposite side of the road to most of the village's facilities.
Cllr Topping added: "There is loads happening – we have two pubs, two churches, a school, memorial hall and playing fields but there is nowhere to cross, nowhere where pedestrians have priority."
It was pointed out a proper crossing could be used by many people.
Residents also shared their experiences of collisions and near misses near their homes.
The parish council has a petition and is also making available stickers that remind motorists that there is a 30mph speed limit through the village.
Comments
To leave a comment you need to create an account. |
All comments 0