Ancient Mariner Steve sets Atlantic record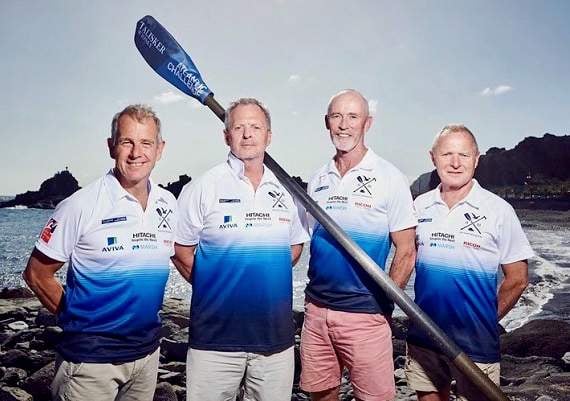 *Steve Hughes (second from left) with his crew.
Subscribe newsletter
Subscribe to our email and get updates right in your inbox.
A ROWER who first picked up his oars on the River Wye has helped set a record rowing across the Atlantic in the oldest ever crew.
Former Monmouth Rowing Club member Steve Hughes and his Ancient Mariners crewmates reached Antigua on Thursday, January 30, after taking 49 days to row 3,000 miles across the ocean.
And the 61-year-old father of twin teenage girls is the third club member to swap the tranquil Wye stream for the buffeting Atlantic's waves after Andrew Barnett from Staunton near Coleford in 2006 and Elaine Theaker two years ago also made the trip.
The crew, named after Coleridge's The Rime of the Ancient Mariner poem, has a combined age of 257, and after stepping ashore for the first time in seven weeks, programme manager Steve said: "All of us think of ourselves as being 21-year-olds, but you realise when you take a knock that you're not as young as you think — the recovery time is so much greater."
During the crossing, they were battered by 20-foot high waves in their 28-foot long Grey Escape boat, but tried to keep rowing 24 hours a day, each taking two-hour shifts at a time.
Steve, the youngest member of the Hitachi Capital UK-sponsored team alongside Guy Munnoch, 67, Mike Winn, 64, and John Moorhouse, 63, had a 20-year military career and took up rowing after moving to the Wye Valley some 10 years ago.
At Monmouth RC he won medals at the British Rowing Masters Championships and helped set an age-group record at the 31-mile Boston Marathon inland river race in Lincolnshire.
The four British rowers were one of 36 crews taking part in the Talisker Whisky Atlantic Challenge, a race which has taken place 14 times since 1997.
In crossing the ocean from La Gomera in the Canary Islands, they raised more than £20,000 for two charities - Blind Veterans, which helps UK ex-forces members suffering from sight loss, and Open Arms Malawi, which provides care for orphaned and abandoned children in the African country.
Previously, the Guinness World Record for the oldest crew of four rowing the Atlantic was a team with an average age of 55, whereas the Ancient Mariners' average is 63.
After setting off on December 12 and rowing through Christmas and New Year, they battled seasickness in giant waves, storms, salt sores, blisters, dehydration, sleep deprivation and exhaustion to reach Antigua in 49 days, 8 hours and 40 minutes.
They rowed around 1.5 million combined oar strokes consuming only dehydrated food whilst making their own drinking water on-board.
Crew member Guy Munnoch, chairman of Hitachi Capital UK, said: "It has been an unbelievably demanding, life changing experience for all of us, requiring immense mental and physical endurance, yet it was also an incredible journey for all of us.
"Faced with daily daunting challenges, the brilliant teamwork and camaraderie amongst all the crew has pulled us through tough moments, drawing strength and welcome distractions from the amazing marine life sightings and Atlantic sunsets beckoning us across the ocean expanse.
"It's a tremendous feeling to reach the finish in less than 50 days and I'm incredibly proud that we've achieved a new Guinness World Record as the oldest team of four to row across an ocean, whilst also making a difference and supporting the fantastic work of the Blind Veterans and Open Arms – two charities very close to our hearts."
Comments
To leave a comment you need to create an account. |
All comments 0