Badge of honour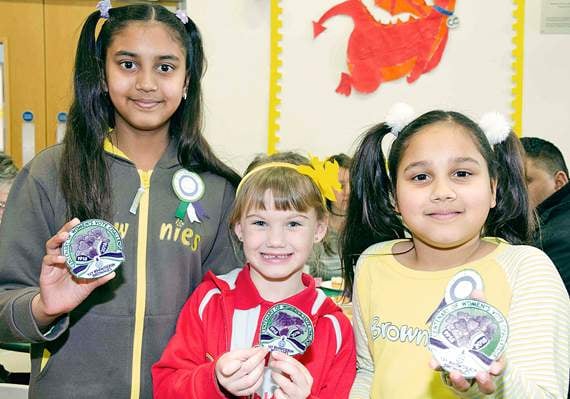 •Ybsha Noyan, Isabella Watkins and Sheiya Noyan with their 100th anniversary of votes for women challenge badges.
Subscribe newsletter
Subscribe to our email and get updates right in your inbox.
GUIDES, Brownies and Rainbows gathered for a special celebration of 100 years of women first getting the vote.
The girls from units in Caldicot also received a special badge to mark the anniversary after learning about the campaign by the Suffragettes which helped persuade the government of the day to pass the 1918 Representation of the People Act.
The Act gave the vote to women over 30 who owned property and to working class men, although it would be another 10 years before all men and women could make their democratic voice heard at 21.
More than 150 people, including local MP Jessica Morden, Mayor of Caldicot Cllr Phil Stevens and members of the Trefoil Guild – former Guides – gathered at Dewstow Primary School for a special celebration tea party.
The girls decorated the hall in the Suffragette colours of purple for loyalty, green for hope and white for purity.
They also received the badge for the centenary of votes for women challenge which they could earn by holding an election in their unit or learning about a women's suffrage campaigner.
The plan is to carry on the badge with more activities about the Suffragettes and votes for women and organisers were keen to have local MP Jessica Morden to talk about the subject.
On each of the tables at the tea party there was a picture of Nellie Cressall, who, as well as being a Suffragette was a campaigner for women's rights more generally.
Among the treats were cup cakes decorated with Suffragette symbols and pictures of icons of the movement such as Emily Davidson who was killed when she stepped in front of King George V's horse at the 1913 Derby.
Gwent county commissioner for the Guides, Anthea Rodley, said: "It's been a really amazing badge for us to do as the lady who produced it is a leader in Gwent.
"There is a huge interest in this badge and it has highlighted a gap in the girls' social knowledge.
"Since doing this badge, I've become so aware of how amazing these women were because it was a scary thing to oppose the society of the time.
"They were brave and it was women coming together, being very strong and working together that achieved great things and I think that links very strongly with Girl Guiding.
"To get a group of women together and organise something is an amazing thing to see – its about bringing the girls together and allowing them to experience wonderful things."
Despite the progress of the last 100 years, Ms Morden, the Labour MP for Newport East is the only woman to have been sent to the Commons from Gwent.
She said: "I'm acutely aware that in the whole of Gwent, which has eight Parliamentary constituencies, I'm the only woman ever to have been elected."
She praised the campaigns by both the
Suffragettes and the Suffragists – who fav­oured legal means such as petitions – and urged the girls present to become active in politics.
Ms Morden, who was first elected in 2005, added: "I think it's great that we are remembering the struggles of women who got us here."
She said: "The direct action taken by the Suffragettes – the blowing up of postboxes, intercepting the mail and politicians was strong action to get where we are today."
She also spoke about Lady Rhondda, who lived in nearby Llanwern, who was jailed and went on hunger strike after blowing up a postbox in Newport.
During the First World War she ran 30 companies owned by her father and later cam-
paigned for the bar on women sitting in the House of Lords to be lifted – she died just weeks before the first female member took her place on the red benches in 1958.
Ms Morden said: "It is a great privilege to represent a constituency that Lady Rhondda came from.
"It is amazing to think that just a few miles down the road there was this woman who did so much for women and enabled women like me to stand for Parliament."
She added that there are twice as many men in the Commons – 442 men and 208 women – and there were still many areas where equality is yet to be achieved.
"To get parity will take a bit more time – so please stand for Parliament."
"We make up half of the population and I think our governments and our politics work better when we are representative of the population at large.
"There is still lots to do – women have got to get equal pay and there is a big issue about women's pensions and the acceleration of the state pension age."
Cllr Stevens outlined the history of the struggle to make the House of Commons more democratic and urged people to use the right which had been so hard won.
He said: "Voting is an important right in our society which many have fought long and hard for.
"By voting you are making your voice heard and registering your opinion on how you think the government should operate
"Remember those women who fought so hard – and in some cases died – so that you are given the opportunity to have your say in our society."
There were special moments when Brown­ie leader Harriett Till received her Young Leaders' certificate and Guide Libby Robinson made the Guide Promise as it would have been said in 1918: "I promise on my honour to do my best and to do my duty to the King and God, to help other people at all times and to obey the Guide Law."
Comments
To leave a comment you need to create an account. |
All comments 0