Environment expert blastsMP over Radio 4 criticism
Saturday 8th January 2022 7:00 am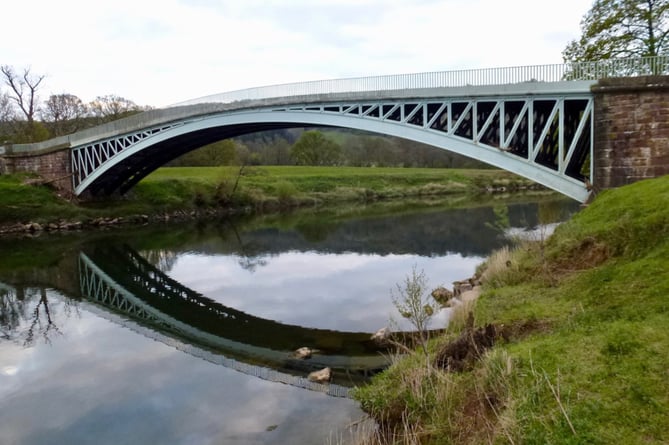 Subscribe newsletter
Subscribe to our email and get updates right in your inbox.
A SENIOR environmental official has accused a local MP of "throwing statutory agencies under the bus" by criticising them on national radio over the River Wye's pollution problem.
South Herefordshire MP Jesse Norman said on the BBC Radio 4 Today programme that Natural England, Natural Resources Wales (NRW) and the Environment Agency (EA) had "done a deplorable job" by failing to work together to address the problem.
But the EA's former area manager for Herefordshire and Worcestershire Dave Throup, who retired last month, responded angrily on social media, saying: "Ridiculous to hear Jesse Norman happily throwing the statutory agencies under the bus."
The MP had called for more enforcement, monitoring and planning, but Mr Throup said that was "all funded entirely through grant in aid which his government has cut by two-thirds in the last decade".
The MP hit back: "I have great respect for you and the work of the EA, and after all your time there and working on the Wye I understand why you would want to support them. But this claim is nonsense. I am doing no such thing."
Mr Norman continued: "What I have always called for is for the EA and other agencies to put together a task force with named accountable leadership which is able to develop a single integrated clean-up strategy for the whole river.
"The agencies are called agencies for a reason. Let's see some agency from them, rather than the present cross-border fudge."
Mr Norman first criticised the agencies' "seriously inadequate" response to the Wye's pollution problem in a letter to them last June.
Mr Throup retired from his EA position after 22 years last month, but remains active on Twitter.
NRW's mid-Wales operations manager Ann Weedy has also defended her agency, saying: "We work closely with our colleagues at Natural England and the Environment Agency as well as other stakeholders from across all sectors on improving conditions in the River Wye.
"Collectively we are working on the actions agreed in the Wye Nutrient Management Plan, to ensure that phosphate levels can be reduced, and good river health achieved and maintained.
"Improving the health of our rivers is the long-term aim NRW is doing everything we can within our resources and legal powers."
Speaking on the Today programme, Mr Norman claimed: "What I have seen, having spent two years working on this, has been a lack of leadership a lack of integrated cross-border care.
"Part of the problem is the Wye runs across the English-Welsh border. The agencies involved - Natural Resources Wales, Natural England and the Environment Agency - have done a deplorable job so far in their failure to come together with a single all-river action plan."
He said that while there was "fantastic" work being done by individuals to improve the river, "there's got to be some leadership from the regulators and agencies, and that has to be supported by the government as well".
BBC climate editor Justin Rowlatt had earlier reported from the Wye, saying that one reason for the rise of pollution has been a doubling in the number of chickens being raised in the area from 10 million to 20 million over the last five years.
Wild water swimming expert and anti-pollution campaigner Angela Jones, who takes groups on the Wye and Usk, told him she had seen the problem increasing markedly. "This river, which is supposed to be the nation's favourite, is literally being used as an open sewer," she claimed
While Jesse Norman called it "a really big long-term problem", he defended his refusal last year to back an amendment to the Environment Bill that would have penalised water companies which allowed untreated sewage into rivers, saying: "There was a lot of misunderstanding about this. The Lords' amendment was tremendous in principle but unfortunately not enforceable." Instead, a new set of rules were eventually put into the legislation which were a "vast improvement", he said.
"Sewage is 25 per cent of the problem," he added. "The real problem is the embedded phosphates (from farming) and that requires monitoring and enforcement, which means money and cross-border leadership.
"That's not what we've seen so far, and we need it."
A spokesperson for the Environment Agency said: "We've recently secured a share of national government funding which means there will be a four-fold increase in the regulatory activity on the Wye.
"Our teams will increase farm visits, focusing on high-risk locations and previously non-compliant businesses. We will also be able to carry out a detailed investigation into the management of poultry manure across the catchment and enhance monitoring at high-risk locations."
Comments
To leave a comment you need to create an account. |
All comments 0