Fanfare for new cadet unit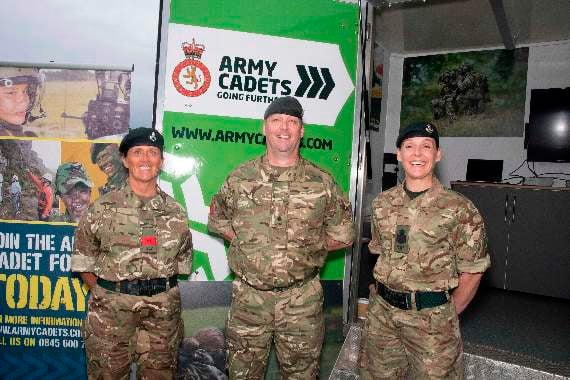 n Lydney platoon instructors Sarah and Mick Stokes and Betina Rodgers-Fee.
Subscribe newsletter
Subscribe to our email and get updates right in your inbox.
A CONCERT by a visiting military band in Bathurst Park was the perfect time to launch a new platoon of army cadets in Lydney.
The Nottinghamshire Band of the Royal Engineers gave the open-air concert last Thursday (July 28) as a thanks to local people after spending a week based in Cinderford on training.
The army cadets also took the opportunity to announce their return to the town after an absence of some 30 years.
The new platoon will be based in the air cadets building at Severnbanks School in Naas Lane and will open on Wednesday, September 15.
The band, which was introduced by the Mayor of Lydney, Cllr Ann Harley, played a selection of military music as well as tunes from the shows and movies and other popular numbers.
Bandmaster Sergeant Edward Swindell said: "We are an army reserve and one of the things we do is an annual training camp. We have been over in Cinderford for a week working on our military skills and our musical skills."
The concert also included solo performances on various instruments and a rendition of Vera Lynn's famous song We'll Meet Again.
The evening finished with Last Post and The Day Thou Gavest.
Air cadets and sea cadets as well as army cadets from other Forest detachments were also at the park to highlight the opportunities they can offer young people
The new platoon will be led by Second Lieutenant Mick Stokes with the assistance of Colour Sergeant Instructor Betina Rogers-Fee and Potential Instructor Sarah Stokes.
Second Lieutenat Stokes became a volunteer with the cadets after spending 22 years in the army, ending his career with the Rifles at Beachley.
He said: "It is 30 years since Lydney last had an army cadet force in Lydney and there was an opportunity to create a detachment in Lydney.
''It's for 12 to 18-year-olds and they can have a lot of fun and learn new skills, including the Duke of Edinburgh Award."
Second Lieuteant Stokes said the cadets gave him a way to "give something back" and to make use of the skills that he had acquired in the army.
Colour Sergeant Rogers-Fee – who got involved after her own children went through the organisation – said the establishment of the new detachment came at "a critical time".
She said "We're coming out of lockdown and trying to return to some semblance of normal.
"Army Cadets has always been about promoting excellence and that's what we want to do here."
There's currently 19 detachments of army cadets in Gloucestershire, including Coleford and Cinderford.
Lydney will become the 20th and there are plans in the pipeline to open another in Newent.
Deputy Lord Lieutenant of Gloucestershire, Roger Deeks, thanked the band for its performance.
He said: "What a fine and stirring performance they have given.
"I would also like to thank Bathurst Park Recreation Trust and Lydney Town Council for making this evening possible and offering this lovely park which is a treasured place in the town."
He said opening in Lydney had been a priority for the cadets' Gloucestershire commandant, Colonel Sandra Nicholson.
"Colonel Nicholson and her team are committed to ensuring that every young person in the county is able to access the fabulous opportunities they offer.
"There has been a history of providing outstanding opportunities to young people through the excellent sea and air cadets – and now they have the opportunity of learning about the army and all the fabulous experiences army cadet detachments offer.
"This is a great opportunity for a growing Lydney and the south Forest.
"The army cadet force provides learning for personal development, acquiring self-discipline, building self-confidence and also friendship and fun.
It will share premises with 614 squadron of the air cadets who meet on Thursday evenings from 6.30pm and Sunday mornings from 10am.
Comments
To leave a comment you need to create an account. |
All comments 0