Fears tree disease could reach Forest
Friday 29th April 2022 6:00 am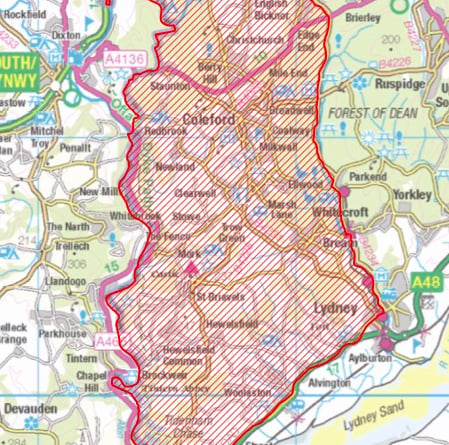 n The public are being asked to help stop the spread of the harmful disease Phytophthora pluvialis
Subscribe newsletter
Subscribe to our email and get updates right in your inbox.
LOCALS are being told to clean mud from their boots and bikes and not remove any wood from a demarcated area of the Forest to help limit the spread of a harmful disease.
The movement of timber in the West of the Forest of Dean has also been restricted by Forestry England (FE) until further notice, due to positive cases of Phytophthora pluvialis, which affects a variety of species, being identified in England and Wales.
The disease, of which no cases have yet been identified locally, causes needles to turn brown and fall off, shoots to dieback, and lesions to the stem, branches and roots of trees including western hemlock, pine and Douglas fir.
The public are being asked to do their bit to stop the spread by brushing off mud and dirt from walking boots, buggies and bike wheels before leaving the Forest and after visiting others woodlands.
FE says the notice may result in timber remaining stacked at roadsides for "longer periods of time".
The notice restricts the movement of wood, isolated bark, live, felled or fallen trees, fruit, seeds, leaves or foliage that has originated within the demarcated area.
Tom Brockington, Operations Manager for FE in the Forest of Dean, explained: "Whilst we do not have a confirmed case of Pluvialis in the Forest of Dean the news that a case has been confirmed nearby and has resulted in the demarcated area notice being issued is of concern.
"There are now a number of confirmed cases in the UK and Forestry England have been working with Defra colleagues and the UK plant health team in finding out more about this pathogen and what protection measures can be taken. We will continue to work with our colleagues and act upon the advice received. 
"We are asking the community to adhere to the legal requirement by not removing brushwood from the woodland that has been issued this notice. We have contacted all our brushwood permit holders to advise them.
"Our timber operations require extra measures to comply with the notice and this may result in timber being stacked at roadside for longer periods of time."
The disease was first identified in the UK in Cornwall in September last year.
After "extensive surveillance", further outbreaks were found in Cornwall, Devon, Cumbria, Surrey and at multiple sites in Scotland and Wales. 
More information and guidance can be found at www.gov.uk/guidance/phytophthora-pluvialis.
Comments
To leave a comment you need to create an account. |
All comments 0