Feather in the cap as rare birds saved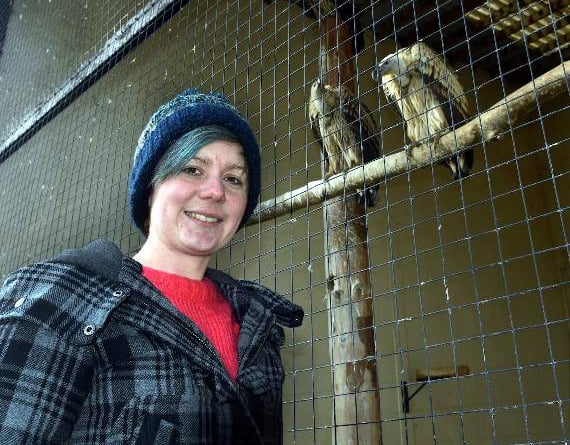 International Centre for Birds of Prey curator Holly Cale is delighted that the rescue operation saved the lives of 17 rare birds.
Subscribe newsletter
Subscribe to our email and get updates right in your inbox.
WILDLIFE experts are celebrating an 'egg-cellent' rescue operation after succesfully rearing 17 rare birds of prey seized from an international egg smuggler.
Three of the birds saved at the International Centre for Birds of Prey (ICBP) in Newent are 'endangered' Cape vultures, and delighted staff now hope to be able to breed from them to reintroduce their offspring to the wild.
The drama started on June 26 last year, when the centre received a call from Border Force officers at Heathrow Airport that a smuggler had been caught arriving from Johannesburg with 19 rare birds eggs worth up to £100,000 strapped to his body.
Bird curator Holly Cale and operations manager Adam Bloch rushed to Heathrow with incubators and brooders to try and save the birds, and found that two had already hatched by the time they arrived.
And nearly eight months later, after unstinting care and nurturing, the centre has reopened after its winter break by unveiling its 17 healthy new additions.
Egg smuggler Jeffrey Lendrum, a 57-year-old 'SAS-trained wildlife hunter', was jailed last month for 37 months following a court case where ICBP director Jemima Parry-Jones appeared as an expert witness.
Jemima, the 2017 Conservationist of the Year, said: "They are magnificent birds of prey and we are so glad this man got caught and has been taken out of action for the next three years.
"As they were reared by hand, they can't be reintroduced to the wild as their chances of survival would be slim, but long term our hope is they will breed and bring up their own chicks that can go back."
She added: "We were called to Heathrow on June 26 after a man had been caught trying to smuggle the eggs into Heathrow on a flight from South Africa, and ultimately we ended up successfully breeding three endangered Cape vultures, four African fish eagles, two African hawk eagles and eight black sparrowhawks.
"Two of the eggs hatched in customs, so the smuggler, who was bringing them in to hatch and then sell, was cutting it very fine.
"We think someone was probably going to meet him outside who would have bred the birds and sold them on – fully grown, they would have been worth £80,000 to £100,000, so it's a very lucrative criminal business.
"I've been staggered at the prices they fetch now, especially the vultures.
"They are one of the most endangered birds in the entire world," she said.
"When Holly and Adam arrived at Heathrow, they had a high intensity candler light to see whether the eggs were still viable and had to mark them all up because they were evidence in a criminal case.
"They had incubators and brooders to put the eggs in, plus fluids and food for the hatched chicks.
"And when we got them back home after a long drive, we left the eggs alone in the incubator for 24 hours to settle down, because they had been jiggled around on the flight and afterwards, which is the most risky thing for an egg.
"We then spent the next month hatching them – one didn't hatch, and another died of an infection after three days – and reared them up. They had to spend 21 days in quarantine at the end, but all the surviving birds are healthy, which is fantastic.
"And although the sparrowhawks are too nervous to be be displayed, we hope the public can see all of the rest of the birds in the near future.
"The whole rescue operation meant we didn't have the space to upgrade the aviaries over the winter as planned, but it's wonderful that this man was stopped and we've managed to save these birds. People like Mr Lendrum are just bad news – they bring the whole of the bird of prey community into disrepute."
Curator Holly added: "To be able to use our knowledge and expertise to successfully hatch and rear these chicks has been an amazing experience.
"I'm very proud of what we've acheived to give these birds a positive future, it's just such a shame that they weren't left in the wild.
"But nearly all survived, and it would be lovely to think we might be able to breed from them in the future and potentially send these young that have been parent-reared back to the wild," she added.
Snaresbrook Crown Court heard last month that Lendrum sparked suspicion when he arrived at Heathrow wearing a heavy jacket in very warm conditions.
A search revealed that underneath he was wearing a body belt concealing 19 protected bird eggs, which Border Force specialist officers identified as protected under the Convention on International Trade in Endangered Species (CITES).  
Lendrum, who has previous convictions for similar offences in Canada, Brazil and Africa, claimed it was his intention to rescue the eggs after he saw men chopping down trees containing their nests.
But he changed his plea in court to guilty to attempting to import the eggs after experts stated that some of them were from birds that nest in cliffs.
Grant Miller, head of the Border Force CITES team at Heathrow, said: "My officers are experts in their field and, in this case, their vigilance has stopped a prolific wildlife criminal in his tracks. Their intervention also ensured that the birds and eggs received the immediate care and attention that they needed.
"Wildlife crime is a global issue and Border Force officers play a crucial role in preventing offenders from moving products over borders, stripping them of their illegal profits.
National Crime Agency investigations manager Heathrow, Chris Hill, said: "This offence was clearly no accident, as Lendrum had gone to great lengths to both source and then attempt to conceal the birds' eggs. 
"His claims that he was engaged in an effort to save them from deforestation did not hold water. Wildlife crime is a cynical business, indulged in by those who have no qualms about the environmental damage they cause as long as there is a profit to be made.
"This case sends a clear message that we are determined to bring cases like this before the courts."
It's not the first time Lendrum has been caught.
Described by police as "the highest level of wildlife criminal", he was jailed for 18 months in 2010 after he was stopped at Birmingham Airport trying to smuggle 14 eggs taken from peregrine falcon nests in the Rhondda Valley in South Wales.
In October 2015, Lendrum was jailed for four and a half years in Sao Paolo, Brazil, after he was found carrying rare albino falcon eggs worth up to £64,000.
He fled Brazil while on bail and may face an extradition request after serving his sentence in the UK.
For more details about the International Centre for Birds of Prey, see www.icbp.org
Comments
To leave a comment you need to create an account. |
All comments 0