Full stream ahead for Wye rowers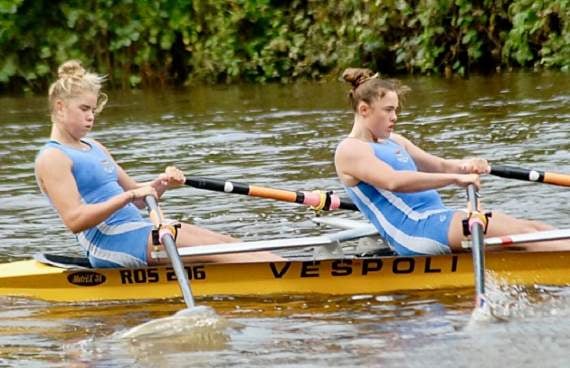 Ross RC's Ella Bardsley-Taylor and Yasmin Howe were fastest girls' double scull.
Subscribe newsletter
Subscribe to our email and get updates right in your inbox.
COURSE records fell as more than 400 rowers launched out in 200 boats on a fast-flowing River Wye in the first time trial of the autumn and winter season.
Both of Monmouth Rowing Club's annual head of the river races were sunk by high water in 2018, so organisers were worriedly looking at the height of the Wye following heavy rain.
But the level fell sufficiently to allow safe racing over the 1.5-mile downstream course from Hadnock to the boathouse, in three divisions against the clock.
The host club, Monmouth Comprehensive School BC, the two Haberdashers' Monmouth school clubs, and Ross RC defended Wye waters against rowers and scullers from 15 visiting clubs from as far afield as Cardiff, Swansea, Taunton, Warwick, Worcester, Tewkesbury and Hereford.
Monmouth School for Boys' eight of Aidan Mason, Ed Baker, Bill Ebsworth, Zeb Bell, Joe Harrison, Dan Taylor, Ethan Chick, Cameron Michie and cox Alex Kulkarni proved quickest boat of the day in a record-equalling six minutes 19 seconds to take the headship pennant, 15.2 seconds ahead of King School Worcester's quadruple scull.
They also had the fastest four of the day among their seven category wins, with Mathis Bellino, Hamish Lawson, Harrison, Michie and Kulkarni taking the J18 class in 6.52 by three seconds.
Lawson and Rui De Sousa Stayton won the J18 pairs in 7.00, with Ben Robinson, Ollie Butler, Jonathan Crane, Teddy Swartz and cox Josh Jones taking J16 four honours in 7.22.
Roan Herbert won the U18 Band 2 single sculls by three seconds in 7.33, with French music and rowing scholar Bellino taking J18 Band 3 singles by just 0.3 secs from his nearest Taunton rival.
And Kayan Hyatt, Ollie Edwards, Matti Vaideanu, Dylan Meek, Adam Fowler, Chris Tang, Isaac Williams-Mayo, Jason Pinto and cox Joseph McIlroy also won U15 eights in 7.35.
Monmouth Comprehensive BC landed four wins, with Finlay Waters and Oliver Chilcott taking J18 doubles in 6.49, just 1.2secs behind Cardiff University Alumni's fastest double of the day, while Waters doubled up in the J18 Band 1 singles, winning in 7.22.
Jack Bufton, Tom Powell, Rhys Hughes and George Knight impressed taking J16 quad sculls in 6.55, while British Championship finalist Peaches Hale was fastest J16 girl singler by three seconds from her nearest Llan-daff rival in 8.00.
Taking the pennant for fastest women singler overall in a new course record was German student Verena Sebald, who is doing a term at Monmouth School for Girls.
She crossed in 7.49 having already landed the J18 girls' Band 2 title in 7.55 in the previous division.
Clubmates Zara Lewis, Amelia Phillips, Eleanor Emes, Abigail Morgan won both J15 girls fours in 8.25 and J16 fours in 8.34, with Carys Mclawlor steering first and Sophie Baysting second.
Monmouth RC had three wins, Izzy Whittington and Sienna Powell taking girls' J15 doubles in 8.06, a second up on their winning over-50 women's four of Kate Hooton, Maggie Hickland, Jan Watkins, Mary Miller and cox Cassie de St Croix, who beat Ironbridge by six seconds, while Chloe Abele won J13 singles in 8.55.
Ross RC took four classes, with J16 girls' double scull Ella Bardsley-Taylor and Yasmin Howe winning in 7.37, Katie Smith taking J18 Band 1 girls' singles in 8.39, a second ahead of their winning J14 double Katie Hermon and Emma Smith in 8.40, and Christine Crowhurst landing over-65 singles in 9.49.
Comments
To leave a comment you need to create an account. |
All comments 0