(Monmouth Comprehensive School )
Subscribe newsletter
Subscribe to our email and get updates right in your inbox.
The chills were multiplying as young actors, singers and dancers wowed the audience with their slick production of Grease The Musical.
After a year without a show at Monmouth Comprehensive School, the musical of the film starring John Travolta and Olivia Newton John was the one that they wanted - hitting the stage with four highly professional sold-out performances.
From the very first note, the audience was enchanted by high energy, slick choreography and highly polished singing, dancing and acting from the talented performers of Monmouth Comprehensive Performing and Expressive Arts Faculty.
The cast of more than 80 students had clearly worked incredibly hard since October developing an unmistakably strong bond, their talent and unique personalities shining through.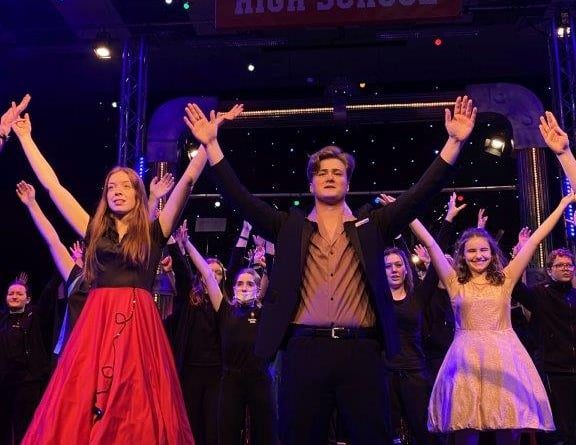 (Monmouth Comprehensive School )
Daniel Smith and Megan Burke were exceptional in the roles of Danny Zuko and Sandy Dumbrowski.
Sandy (Meg) held us in the palm of her hand every time she stepped on the stage.
Each time she sang, her honeyed tones allow us to truly hear her heartfelt joy and sadness.
Dan was totally believable as Danny Zuko as he goes on to frustrate the relationship with Sandy and strain his T-Bird friendships, battling his own insecurities as he attempts to find happiness somewhere between being totally cool, being a clunky jock and being completely in love.
Every time he was on stage, and he was a great deal, this Danny brought the mood, the pace and the energy.
The supporting T-Birds and Pink Lady ensemble, including Suzie Paddock (Rizzo), Nat Johnson (Kenickie), Lizzie Lane (Marty), Dom Hodgson (Sonny LaTierra), Molly Bradley (Frenchy), Andrew Johnston (Doody), Charlie Gullis (Patty Simcox), James Tester (Eugene Florczyk), Jacob Deighton (Roger), Hannah Bradley (Jan), Anwen Davies (Cha Cha) and Lola McLennan (Miss Lynch) excelled, especially in ensemble numbers such as Greased Lightnin' and Freddy My Love.
(Monmouth Comprehensive School )
Sam North made a fantastic Vince Fontaine and wowed audiences with his rendition of Beauty School Drop Out as the Teen Angel, while Oli Riba-Fookes excited audiences with his lively performance of Born to Handjive.
Catchy tunes, humorous and hard-hitting lyrics oozed out at every turn and alongside these wonderful actors was a brilliant band - a mix of students, teachers and external musicians.
Sizzling saxophone solos, smooth piano chords and guitar riffs helped the hips gyrate.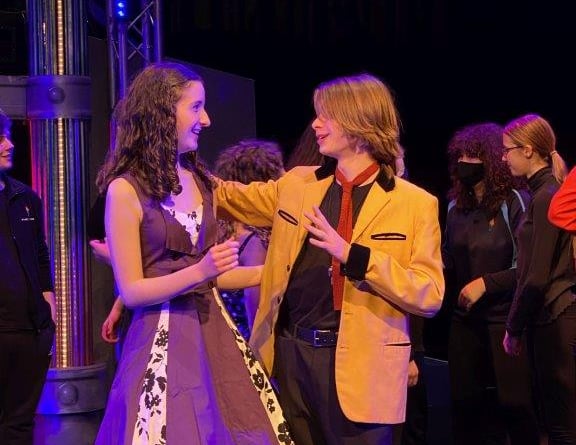 (Monmouth Comprehensive School )
For some of these amazing young people, life is actually imitating art with all of the lead performers leaving school this summer to take up places at universities across the country.
Three of them are going on to study drama and musical theatre so make a note of their names and expect to see them in the West End, on Broadway or in TV dramas like former student and current No1 album star Olly Alexander very soon.
(Monmouth Comprehensive School )
Behind the show was the Performing and Expressive Arts Faculty, with director Linda Norris spending countless hours working on scenes with the cast, while musical director Marisa Riordan and producer Amy Ritter helped the cast learn all of the 22 songs.
The backstage crew, led by stage manager Rachel Wells helped the show run smoothly throughout with the technical aspects of the show helping bring the performance alive.
The crew were a mix of teachers and students, including Milo Kent, with jobs ranging from helping with refreshments to operating lights.As with every show that Monmouth Comprehensive School has done, they made the show as professional possible, despite their youth.
A spokesperson said: "Grease was not only a show to perform, but an incredible experience for all, with the whole cast being able to take the audience back a few years!
"And in the words of Vince Fontaine – "It doesn't matter if you win or lose, it's what you do with your dancin' shoes."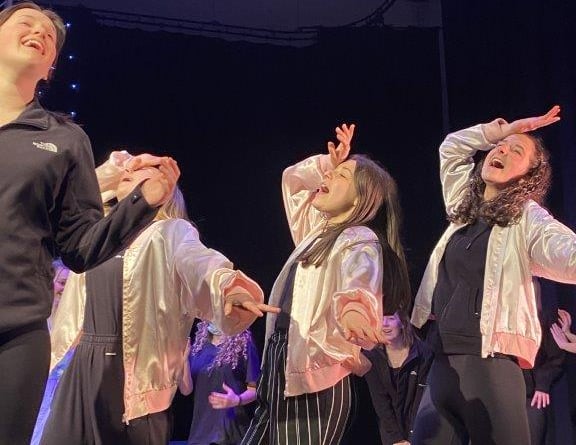 (Monmouth Comprehensive School )
Comments
To leave a comment you need to create an account. |
All comments 0