Mum's appeal to couple after girl river rescue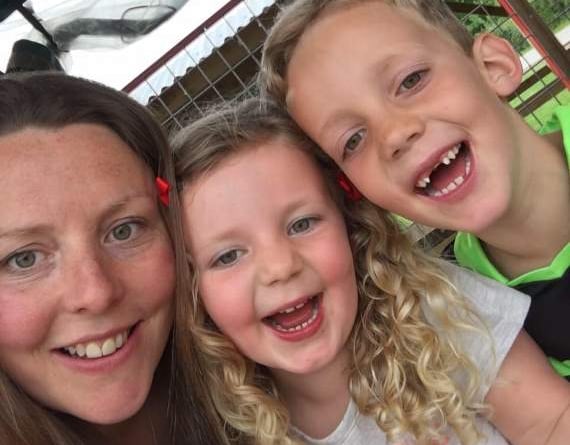 Becki Breen and her children Amelia and Oliver want to say a big thank you to the couple who helped with the river rescue. Photo: Becki Breen.
Subscribe newsletter
Subscribe to our email and get updates right in your inbox.
A MUM whose four-year-old daughter tumbled into the River Wye on her bike wants to say a big thanks to a couple who helped rescue the youngster.
Becki Breen was enjoying an outing to the Biblins with children Amelia and Oliver, seven, last Saturday (January 11) lunchtime when the girl hit a rock in the path and lost control.
In an instant, Amelia and her bike careered down the steep bank into the fast-flowing high water just upstream of the Biblins swing bridge.
Thankfully, a couple who were out walking with two dogs saw the youngster disappear and the man rushed down the bank to pluck the youngster to safety before she was swept away.
Now relieved mum Becki, from Cam, has appealed to them to get in touch so she can say a proper thank you for helping rescue her daughter.
"I said thank you at the time, but in the panic I didn't take their names and I just really want to get in touch," she said. " If they hadn't been there, it doesn't bear thinking about.
"My children wanted to go for a bike ride and we like visiting the Saracens Head at Symonds Yat, so we parked up and they rode to the Biblins and I walked our dog Fern.
"Oliver went over the swing bridge and then came back, and we had just started heading back to the car park when Amelia hit a stone in the path and went down an opening in the bank.
"It was a steep drop and she just went straight down into the water. The bike disappeared right under it was so deep.
"I just ran in panic and this couple were ahead of me, with the man rushing straight down the bank.
"Thankfully he got hold of Amelia and was able to pull her out. It was probably only seconds, but it seemed like a lifetime.
"She was shocked but the couple had a rug in their bag as well as a thermal blanket and we were able to dry her off and calm her down before carrying her back to the car.
"The first thing she said when we got her out was 'I kicked mummy', and it just shows how important it is for children to have swimming lessons.
"She was shaken up and wanted her teddy afterwards, but she's made a good recovery and has another swimming lesson tonight," said her mum
"I'd love to say a proper thank you to the couple who helped rescue her, so if anyone knows them and can contact me that would be fantastic.
"I think they were regular walkers, as they seemed quite organised with a rucksack and thermal blanket, possibly in their 30s.
"They were walking their two large red dogs, possibly vizslas, or cross-bred Labs,
"The possibilities of what could have happened are unbearable. I am so grateful and we are so extremely lucky.
"I just want to find them to get in touch."
Comments
To leave a comment you need to create an account. |
All comments 0