The Wonderful World of Maurice and Stacey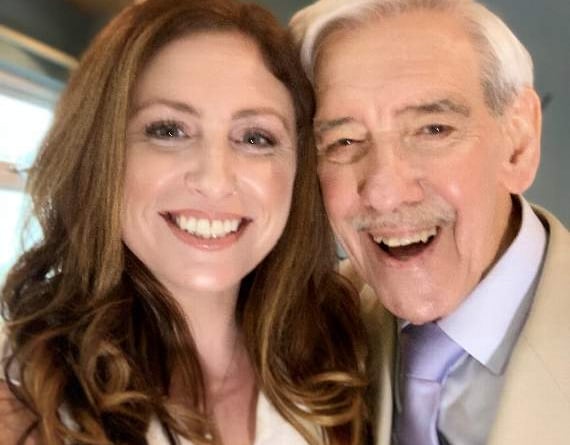 Maurice Craft and Stacey Thornhill
Subscribe newsletter
Subscribe to our email and get updates right in your inbox.
A FOREST pensioner says he wants to outdo Captain Tom in raising funds for an Alzheimer's charity.
Maurice Craft, of Alvington has released an album of songs with Stacey Thornhill of Lydney – who he met by chance in a Bristol car showroom.
Two years after that meeting, they have released What a Wonderful World in aid of the Alzheimer's Society – with the project starting off with an audition in Maurice's car.
Six years ago, Maurice's beloved wife, Dorothy, was diagnosed with Alzheimer's at the age of 77.
Maurice, 86, said: "It was seeing my lovely wife fighting this terrible disease that inspired the project.
"I thought I must do something not only to help Dorothy, but all the lovely people out there who may get it as well.
"My aim is to raise even more than Captain Tom, and get £40 million for Alzheimer's Society," said Maurice. "I won't rest until I've done it.
"The charity has provided me with a great deal of support and strength since diagnosis.
"I was assigned a Dementia Adviser called Debby who has helped me every step of the way as I've navigated the many emotions and challenges that supporting a loved one with dementia can bring."
Maurice started out as a magician in the 1950s at the age of eight, and later adding singing and comedy to his act.
He performed seven nights a week alongside his day job before leaving the stage for the corporate world when he had a young family.
Singing partner Stacey says she never imagined that her former car sales job in Bristol would lead her to the recording studio.
She said: "It is pretty crazy that the entire project came about because I sold Maurice a car.
"We clicked straight away. Between purchasing and handing over the car we became firm friends, and Maurice told me how he wanted to create an album to raise money for Alzheimer's Society in Dorothy's honour.
"I'd always loved singing and said how I would love to use my talent for such a worthy cause.
"A few weeks after our chat, Maurice came back to the showroom and said he had decided to have a female voice on the album as well as his own.
"He asked me if I fancied joining him and auditioned me in his car.
"I had never had a singing lesson in my life and was suddenly there sat in a car park singing What A Wonderful World!"
The songs on the album were carefully chosen by Maurice to tell the story of his relationship with Dorothy, a former competitive ballroom dancer.
He was helped by his son Mike Craft – who himself is a professional musician and has just finished a 26-year stint as the lead singer of the band Smokie.
The album features nine covers including 'What a Wonderful World', 'I Could Have Danced All Night' and 'We'll Meet Again', alongside one original song.
Titled Confusion, Maurice based the song on a poem he discovered which he believes perfectly encapsulates Dorothy's dementia journey.
"The album really is a love letter to Dorothy," he said. "She is a wonderful woman and she means the world to me.
"Our relationship today is very different to what it once was, as Dorothy now struggles to recognise any of her loved ones and requires round the clock care. As a carer, it is sometimes hard to know how you cope but you have to. It is exhausting and can often be incredibly stressful.
"However, one thing that has never changed for Dorothy is her love of music and dancing. An incredible moment came when I played her the album, and she suddenly said that she could remember me singing one of the songs on stage. She had not had any moments of recollection like that for nearly three or four years. It was amazing and goes to show the power of music.
"I am extremely proud of the album. It has been absolutely my salvation through lockdown and Stacey has become a wonderful friend."
Claire Frost, Alzheimer's Society's Community Fundraiser, she said: "We're delighted that Maurice and Stacey have recorded an album in aid of Alzheimer's Society. It's a wonderful gesture and a very special collection of songs, made all the more poignant by Maurice's personal experience of dementia through caring for his wife Dorothy.
The album is available now to stream and purchase on Spotify, Apple Music and Amazon Music. All profits from the album's sale will go directly to Alzheimer's Society.
Comments
To leave a comment you need to create an account. |
All comments 0