"An extraordinary and lasting gift to the future"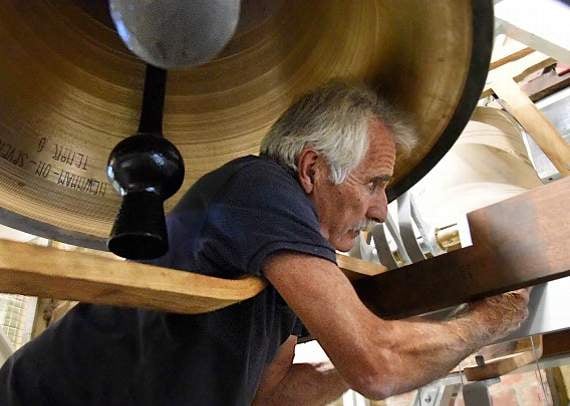 Bruce Leigh leaning over a wooden slider. Photo Graham Champken.
Subscribe newsletter
Subscribe to our email and get updates right in your inbox.
THE 'quintessentially English' sound of church bells was celebrated with a special service at a Forest church on Sunday (July 7), as the peal returned.
The eight bells at St Peter's in Newnham were dedicated by the Bishop of Tewkesbury, Rt Rev Robert Springett, in front of a packed congregation.
The celebration even featured a version of the Christmas carol Ding Dong Merrily on High with one of the lines changed to: "Let Newnham's bells be swungen".
The bells which had been in place since the 1890s were notoriously difficult to ring, and from the late 1980s Newnham was dropped from the circuit of towers visited by Forest of Dean bell-ringers.
In 2012, an inspection found many of the fittings were worn or unstable, one of the bells was in a dangerous condition, another so heavy "that only Hercules could ring it" and the bells were too heavy for the slender tower.
The community then set about raising the £155,000 needed to put the bells back in order and make them easier to ring.
Work began in July last year and the bells now have new fittings, while the three heaviest have been replaced by lighter ones.
The bell frame has also been completely refurbished, new bra- cing added and the whole apparatus set on a bed of steel girders to ensure it does not rock.
There is also a new glass-fronted ringing gallery overlooking the nave.
As part of the project, there will also be an effort to encourage a new generation of ringers with children at Newnham School being introduced to the ancient skill in a series of workshops from September.
The dedication ceremony took place in the new ringing gallery with Bishop Robert being joined by Rev James, bell-ringers and Andrew Nicholson of Bridport-based Nicholson Engineering which cast the bells.
Dedicating the bells, Bishop Robert said: "There seems to be something quintessentially English about church bells.
"If we stop there, it could be that bells are simply an exercise in hopeful nostalgia. Bells harken us back to a bygone age and make us think of how things once were.
"But there is more as well as reminding us of the presence of God, bells also summon us to worship, in some ways that is their chief purpose and characteristic.
Bells ring to unite us in community – they summon us to community, bells summon us to be more than individuals.
What has been achieved here matters.
"Thank you to all who have enabled this, to those who have laboured hard on the restoration project, to those who have raised money, to those who have organised, to those who ring bells, to all those who have made this day happen.
"These bells are more than metal, stays, hammers and clappers they speak of the living God working in this community. They speak of who we are.
"These bells you have laboured on that have been restored and are being rededicated again are an extraordinary and lasting gift of this generation to the future, bells that ring clear across our land with confidence in the life we are called to share."
Vicar of Newnham Rev Rob James said that as well as bringing the bells back into a usable condition, the project was also restoring the church clock and the carillon – an instrument made up of small bells that used to play hymn tunes.
Rev James said: "It (the clock) is not telling the right time yet because we are still waiting for a couple of gear wheels to be produced – they will come on stream in a couple of weeks.
"The other key thing we are doing is teaching people to ring.
"From September we will be in the school teaching some of the older children about bell-ringing and they will have the chance over the half term to come and have a go – that is quite exciting."
Rev James also thanked the principal sponsors – the Heritage Lottery Fund, which contributed £30,000, the Gloucester and Bristol Diocesan Association of Church Bell Ringers, the Gloucestershire Environmental Trust, the Ironmongers Trust, the Gloucestershire Historic Churches Trust, the Garfield Weston Foundation and the family of the late Rev Barry Trotter and his wife Eileen.
Rev James said: "We raised an awful lot of money locally for this and put a lot of time and effort and people hours but without these seven people and organisations, the whole thing would have been impossible because they have given us a huge amount of money, expertise and support in terms of heritage and engineering and practical bell-ringing concerns."
He also read a few words from the family of Mr and Mrs Trotter, who paid for the tenor bell and which has the names of the couple cast on it.
They said: "The whole family is so grateful that the church has been able to dedicate the tenor bell to mum and dad.
"They lived very happy retirements in Blakeney and Newnham and loved life here and you made them feel very welcome and involved in church life.
"Mum and dad would have been so interested in the work that has gone into moving, repairing, recasting and rehanging the bells.
"It's great that you will be able to hear the bells ringing and mum and dad, resting in the churchyard are so close by.
"We love the thought of a bell being dedicated to them and being safe in the tower for another 500 years or more."
Chairman of the Gloucester and Bristol Diocesan Association of Bell Ringers Hugh Evans said there had been a dedication of bells in 1982.
He said: "Sadly that work didn't last too long and the bells got into trouble again
"I'm very pleased to be here and hopefully this is it this time.
"As bell-ringers we are privileged because we don't have to pay for the instruments we play. We are mindful of that and our association does foster the art of change ringing and, of our subscriptions, 90 per cent go to the teaching of ringing and to the preservation and restoration of bells," he added.
"The association is giving 13 per cent of the overall cost of this project and the Forest branch has given £2,000."
The dedication service was followed by a community supper but one person who was unable to enjoy it was the project's patron, Lady Bathurst.
She was due to have given the first reading, but her car broke down on the M5 as she travelled from Cirencester.
It is hoped the project will mark a new era for bell-ringing in Newnham. Project co-ordinator Andy Vivian said: "Getting the bells back is just the beginning.
"Our task now is to make Newnham's belfry a place where it will be a pleasure to learn to ring.
"And we would love to hear from anyone who thinks they might like to give this ancient art a try.
"It is good fun and whatever your background you will be welcome to join the band of Newnham ringers.
"You don't have to be musical, you just need to be able to count to eight."
Comments
To leave a comment you need to create an account. |
All comments 0