Battle of Britain display wings in to Wye Valley
Thursday 9th December 2021 8:30 am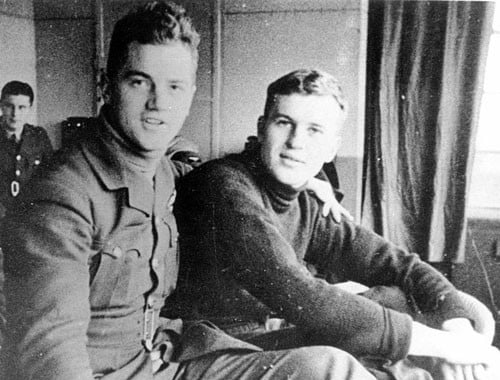 Subscribe newsletter
Subscribe to our email and get updates right in your inbox.
A TOURING exhibition celebrating Wales' World War Two flying aces has landed at Monmouth's Shire Hall for four weeks.
Among 67 Welsh pilots who helped defeat the Luftwaffe in the crucial Battle of Britain 81 years ago was Chepstow-born fighter pilot John Bedford Kendal, whose story is among those being told.
The 'Wales and the Battle of Britain' exhibition, which also features the little-known role of Chepstow Racecourse as a wartime RAF base, was originally scheduled as an 80th anniversary event last year, but was postponed owing to lockdown.
The nationwide event was launched with a Red Arrow flypast on September 15 in Cardiff in the week of Battle of Britain Day - September 15 - marking the day in 1940 when Nazi aircraft losses were so high they knew they could not defeat the RAF and invade Britain.
Born on September 29, 1920, to Ernest and Doris Lily Kendal, John Kendal joined the RAF in 1939 and saw action a year later in the Battle of Britain.
On October 2, 1940, he shot down an Me109, but was then shot down himself three days later in combat with Luftwaffe fighters over Kent, suffering injuries in a forced landing.
But he was quickly back in action, shooting down another Me109 on October 29.
After the Battle of Britain, Kendal volunteered for the Merchant Ship Fighter Unit in 1941.
He was in the first Camship to sail in a Russian convoy, the Empire Morn. Convoy PQ15 sailed from Hvalfjord, lceland on April 26, 1942 and arrived at Murmansk on May 6, having lost three ships to He111 torpedo-bombers.
Having left Murmansk, Kendal was launched to attack enemy aircraft around the convoy on May 25, destroying a Ju88.
But later at the limit of his fuel, Kendal baled out and sustained serious injuries when he struck the sea after his parachute failed to open properly.
He was quickly picked up from the icy water but died soon afterwards.
Kendal was the first MSFU pilot to destroy an enemy aircraft and he was the only one to die after an operational launching.
His final action had been to radio the position of the dinghy of the Ju88 crew.
The 21-year-old was buried at sea and is remembered on the Runnymede RAF Memorial.
The little-known RAF history of Chepstow Racecourse is also told in the exhibition, which was named RAF Chepstow, an outpost of RAF St Athan, No. 32 Maintenance Unit RAF and No 19 Maintenance Unit RAF.
It featured a grass runway in the centre of the course with space to house bombers at Oakgrove and across the road.
The exhibition at the Shire Hall was officially opened on Wednesday (December 1) by Air Commodore Adrian Williams, with Squadron Leader John Dunn, and was attended by Monmouthshire county council leader Cllr Richard John, Monmouth town mayor Terry Christopher, county council chair Mat Feakins, Monmouthshire Armed Forces champion Cllr Lisa Dymock and representatives from the Armed Forces and emergency services.
Cllr Dymock said: "It is a great honour for Monmouthshire's Shire Hall to be able to host this touring exhibition.
"The Battle of Britain was one of the pivotal moments in the Second World War. It is down to those brave pilots, the ground crews, and all those who supported them that the Battle of Britain was won and the threat of invasion was removed."
"I would like to thank Squadron Leader John Dunn and the RAF for bringing the exhibition to our county."
The free exhibition is open 11am to 4pm, every Monday, Tuesday, Friday and Saturday until December 21.
Comments
To leave a comment you need to create an account. |
All comments 0