Diver nominated for national award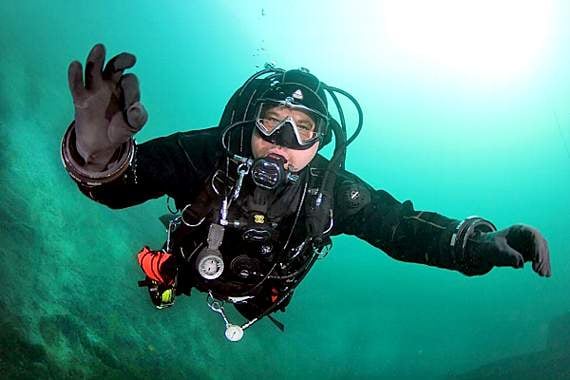 Diver James Neal, from Symonds Yat, has been nominated for a national award.
Subscribe newsletter
Subscribe to our email and get updates right in your inbox.
A DEVASTATING brain injury hasn't prevented a 49-year-old Wye Valley man from excelling in the sport he has always loved.
James Neal from Symonds Yat suffered a bleed on the brain just before Christmas 2013 and was rushed to Frenchay Hospital in Bristol, while family members were told to prepare for the worst.
He survived, but the massive brain injury he suffered changed his personality.
His remarkable achievements in the face of adversity, however, have seen him nominated for a national award by Headway, the Brain Injury Association, which celebrates the exceptional efforts of survivors of brain injury and their carers.
"After the bleed, James quickly became angry, having outbursts that I thought would end our marriage," said his wife Dimple Neal. "The dynamics of our relationship had completely changed and we were struggling."
James' inability to filter his thoughts made him blunt and direct and as a result he was kicked out of one of the two diving clubs he attended, shattering his confidence.
"People knew I had sustained a brain injury, but because I looked fine they were unwilling to accept that I was struggling," said James.
"That's the problem with brain injury – it's a hidden and fluctuating disability."
But although James had lost many of his life skills, his knowledge of diving was still there.
Cheltenham Sub-Aqua Club were understanding of his injury and, once given the go-ahead by doctors, helped him get back on his feet.
"My neurological doctors didn't know anything about diving, and my diving doctors didn't know anything about brain injury, but I put them in touch with each other and I'm really grateful they worked together to support me," said James, who used to race 30ft Lamborghini-powered powerboats.
"All of my worries and concerns disappear as my head drops below the surface and I basically go into autopilot.
"As a result of my injury, I can only focus on one thing at a time.
"When I am diving I focus on that and everything else is gone.
"On dry land there are always too many things going on at once and I can't focus on doing anything.
"I'm qualified to dive to depths of more than 100 metres, carrying multiple cylinders, breathing gases that would be deadly if inhaled at the wrong depths.
"But I can't make a bacon and egg sandwich without ruining it – it makes no sense."
James is now among the top one per cent of divers world-wide, with no limit to the depths he can dive down to.
He is also an elite diving instructor and has found a sense of purpose through helping others to better themselves in the sport that means so much to him.
In September last year, James organised a 24-hour scubathon with fellow divers which raised £8,000 for Headway Gloucestershire.
He will find out whether he has won the Alex Richardson Achiever of the Year Award, sponsored by Slater and Gordon Lawyers, at a ceremony in London early next month.
"When I found out I was a finalist I was lost for words," he added.
"To hear that I have inspired other people is just seriously cool."
Comments
To leave a comment you need to create an account. |
All comments 0