Mayor tucks into bush grub challenge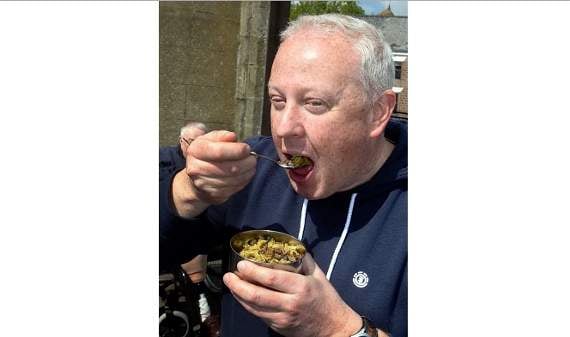 Mayor of Coleford Nick Penny tries his bush tucker trial.
Subscribe newsletter
Subscribe to our email and get updates right in your inbox.
AN EXTREME two-part challenge saw a Forest mayor delving deep underground and facing a distinctly unappetising three-course meal to raise funds for his chosen charities.
Deer brain soufflé, woodlice risotto and cyanide salad were all on the bush tucker menu for Cllr Nick Penny, Coleford's mayor, just days after he'd ventured underground at Hopewell Colliery to spend three and a half hours hewing coal.
The challenges have raised £1,167 so far towards Cllr Penny's total of more than £6,300 for Great Oaks Hospice in Cole-ford and Severn Area Rescue Association (SARA).
He said: "I thought hewing coal with Rich Daniels would be the worst bit and it was physically very hard work, but I was very apprehensive about the bushtucker challenge.
"The menus were prepared by newly-elected Independent district councillor Thom Forrester, who came recommended by the catering company I first approached.
"I started with bitterleaf and cyanide salad and followed that with woodlice risotto with four types of fungi. That was actually the most palatable thing on the menu. The woodlice were a little bit crunchy, but that gave it a nice balance. I look forward to seeing it on local menus, as Thom told me it was a very healthy dish.
"He sourced all the ingredients and said the whole menu was healthy, but the deer brain soufflé was the hardest to face. It was the texture that was the problem really. It looked like a cannister of vomit, but I ate more than I had to."
Nick very generously offered the 25 to 30 people who came to watch his ordeal last Saturday (May 11) an opportunity to try the dishes.
"A few people tried the other courses," he said. "But no one was very interested in the soufflé.
"I was more worried about working in a free mine initially as the thought was quite daunting. I wanted to do it though to connect with the heritage of the Forest."
Nick spent three and a half hours at Hopewell Colliery, which is still a working mine, last Wednesday (May 8) where he began by shovelling spoil.
"I was helping to prepare a continuation of one of the tunnels. It was definitely the non-glamorous side of mining. After that I helped with hewing the coal and bringing it to the surface.
"I have absolute respect for the free miners. The physical strength needed and the conditions they work in are eye-opening. And the shaft I was in was one of the more open ones. The space was still extremely limited and claustrophobic though."
Cllr Penny plans to hand over cheques to the charities at the end of the month.
To contribute towards his fundraising efforts, you can do so at Coleford Town Council (CTC) offices at Lords Hill Walk. CTC can be contacted on 01594 832103 or by emailing [email protected]
n The Rewild Project will be using roadkill squirrels in the latest of its workshops this weekend.
A one-day course on either Saturday or Sunday (May 18 and 19) will teach people how to skin and tan squirrel that has been killed on the roads of the Forest "the organic and traditional way."
The course will be led by Scott Bain.
The Rewild Project is a not-for-profit social enterprise that focuses on environmental education and ecological restoration.
Comments
To leave a comment you need to create an account. |
All comments 0