MP in offer to solve road impasse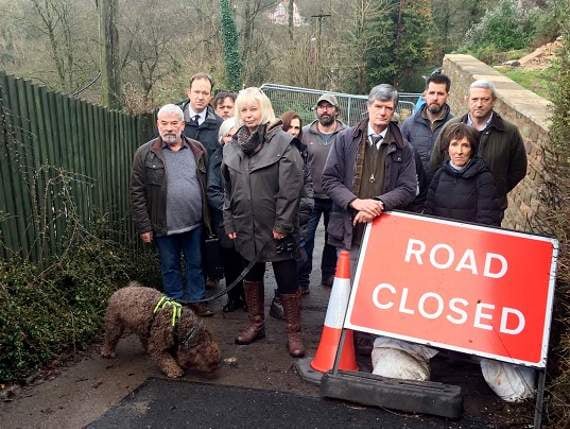 Residents are calling on Herefordshire Council to re-open the C1257 at Symonds Yat.
Subscribe newsletter
Subscribe to our email and get updates right in your inbox.
Local MP Jesse Norman has volunteered to broker a meeting to solve an eight-month road closure affecting residents near the border with the Forest.
A total of 40 properties in Symonds Yat have been almost cut off from the rest of the world due to a road closure in the picturesque Wye Valley village.
The single-track C1257 road at Symonds Yat West was closed last June due to a combination of a dangerous wall next to the highway and damage to the highway itself. This was all because of an ongoing landslip.
The only alternative for residents to access their properties is via Ferrie Lane Byway alongside the River Wye to the rear of The Old Ferrie Inn.
The byway is narrow (maximum vehicle width 6.2ft), unlit at night with some steep drops to the river – at its lowest point it sometimes floods when the river is high.
Herefordshire Council is responsible for the condition of the highway and the safety of the public but the wall is privately owned and remains the responsibility of the owner of the adjoining property.
The council says it is in dialogue with the owners of the wall to try to resolve the situation collaboratively and without having to resort to potentially prolonged legal action.
Now Hereford and South Herefordshire MP Jesse Norman has volunteered to be a broker to find a solution to the problem.
"If the current discussions are not successful, I'm very happy to try to broker a way forward between all the parties."
Kerne Bridge councillor Paul Newman, who welcomes Mr Norman's offer and also volunteers to help, said he was shocked and disappointed by 'the apparent inactivity and lack of urgency' shown by the council and its contractors.
"It's almost inconceivable that after yet another four months, I can be here saying exactly the same thing.
"We need more energy and a determination to find positive solutions to bring an end to the awful isolation of this local community."
Clive Hall, acting assistant director highways and transport at the council, said they were seeking a further meeting with the owners of the wall and their professional representatives.
"At that meeting we plan to present to them an interim solution that will make the wall safe and enable us to reopen the road," he said.
"We shall be seeking their consent to move the interim solution we have engineered forward and agree what further monitoring and approvals are required for them to arrive at the eventual construction of their wall."
Cabinet member transport and regulatory services Barry Durkin said the council fully acknowledges the difficulties the closure is having on residents and businesses.
"Ultimately the wall remains the property of the owners.
"The next meeting with the owners will give us a clear way forward and if our interim proposal is agreed we will provide full details to the community and will then expedite all necessary works to reopen this road."
Comments
To leave a comment you need to create an account. |
All comments 0