Olympian lifts lid on earlydays on Desert Island Discs
Sunday 26th December 2021 7:00 am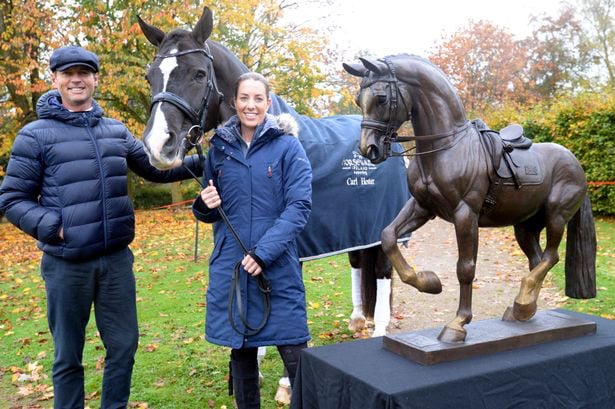 Subscribe newsletter
Subscribe to our email and get updates right in your inbox.
OLYMPIC gold medal horseman Carl Hester has revealed that he first saw his actor father on TV shows like Coronation Street and Z Cars, but only met him in real life in adulthood.
The Newent-based equestrian star, who also played a big hand in helping Charlotte Dujardin and Valegro dominate the dressage world from his Malswick yard, grew up with his mum on the remote Isle of Sark, where cars are banned and horses are a main means of transport.
And appearing on Desert Island Discs last week, the 54-year-old revealed that he first saw biological dad Tony Smee, now 72, when she pointed him out on TV.
Carl, who was born in Cambridge, also told how his mother had shockingly been shamed in front of her whole school in London by the announcement that she was pregnant with him, and was sent away to stay with a social worker.
And he revealed how he finally met his biological father, who also starred in Morse, Miss Marple, Midsomer Murders, Colditz and The Sweeney, when he moved to the mainland to work at an equine therapy centre.
Talking to Desert Island Discs presenter Lauren Laverne, Carl said: "It's all good and looking back at how it all started, everyone in their situation did the best they could.
"My grandmother was definitely somebody who would be described as "what would the neighbours think?," he said.
"And I know when my mum became pregnant she was taken back to school and they were asked to announce it at assembly in front of the school, which I think must have been obviously pretty difficult for her at the time."
Thanks to his grandad, Carl's mum was able to keep him, as many children of unmarried mums were put up for adoption in the 1960s.
She then moved to Sark on doctor's advice after Carl suffered repeated bouts of pneumonia and met and married his stepfather Jess Hester.
Carl later attended a boarding school on Guernsey, where his mum would call and tell him when his Tony was going to be on telly.
"He starred in a lot of mainstream TV at the time - Coronation Street, Morse, Tales of the Unexpected - some of those greats that we all used to watch all the time, and so she said, 'If you watch this at this time tonight, you will see what your father looks like.'"
"She would give me the name of the character that he would play, but of course we had common rooms and very often when you were watching TV there would be anything from eight to 25 boys in a common room and not everybody would want to watch the same thing.
"But I would always insist on those nights, 'please, please, please, could we just watch this programme' because I wanted to see what my father looked like and to show my friends as well.
"So that's how I first saw him. On the television."
Carl later joined the yard of dressage rider Dr Wilfried Bechtolsheimer, and became the youngest rider to compete in the Olympic Games in 1992 at 25, going on to compete at six Olympics and landing team gold at London 2012, silver at Rio 2016 and bronze at the delayed Tokyo 2020 Games last summer.
Of wonder horse Valegro, he told the programme: "He's done so many good things for so many people, he's happy to be patted and stroked.
"People come and visit him at home on a regular basis to touch him. He has his own statue in our local town of Newent.
"It gives me great pleasure when I drive past there on my way to the Co-op to get the Sunday shopping and I see a lot of children sitting on the statue or being photographed with him and I think what an incredible horse."
And looking ahead, Carl isn't hanging up his saddle yet, with hopes of a seventh Games in Paris in 2024.
"I am hoping to go there," he said. "There are lots of people snapping at my heels, so it's not a given but I've got my heart set on it."
Among his favourite songs on Desert Island Discs, he chose Castles by Freya Ridings for helping him ride better, his London 2012 dressage music Fleurs Du Mal by Sarah Brightman, Brand New Key by Melanie, the first song he remembers, just after his mum and Jess got married, and the first song he ever bought, Some Girls by Racey.
To listen to the programme, go to www.bbc.co.uk/programmes/m0011rms
Comments
To leave a comment you need to create an account. |
All comments 0