Busy beavers back at brook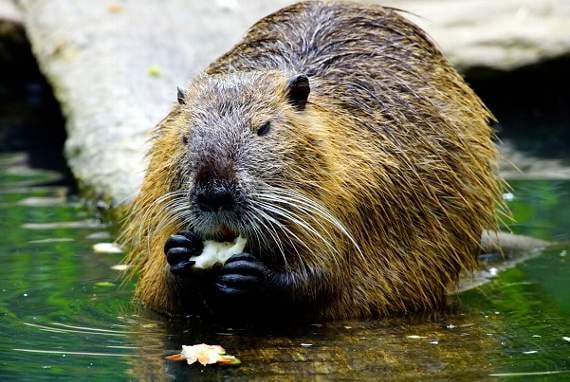 Subscribe newsletter
Subscribe to our email and get updates right in your inbox.
THE Forest is home again to wild beavers after two were released last autumn.
A project to reintroduce the animal after an absence of around 500 years was temporarily halted last February when a pair of beavers set free the previous summer had to be removed due to disease fears.
The latest pair – a male and a female – have now settled into their six-hectare woodland enclosure at Greathough Brook above Upper Lydbrook after being relocated from the River Tay area in Scotland.
Careful monitoring by Forestry England staff has revealed that both beavers have adpated well to their new surroundings, with video footage showing dam building and tree felling.
Rebecca Wilson, Planning and Environment Manager at Forestry England, said: "Our trail cameras throughout the site are giving us a fascinating insight into the behaviour of the beavers at Greathough Brook." 
"Nocturnal dam building is creating deep pools of water, slowing the brook's flow.
"The tree felling followed by coppicing trees will bring benefits for a variety of wildlife that depends upon more complex habitats.
"We are looking forward to seeing and sharing more changes to the site this year."
With help from Scottish Natural Heritage, the animals were captured and taken to a specialist facility at Five Sisters Zoo in West Calder for all the necessary health checks before the long journey to the Forest of Dean.
Beavers were hunted to extinction in Britain for their luxurious pelts and the castoreum waterproofing oil they secrete, with the last recorded wild specimen shot in Scotland in 1526.
The orginal pair of beavers sourced from Germany were released to much fanfare in July 2018 by Environment Secretary Michael Gove, who sanctioned the project, with the hope that they could stop flooding by building dams.
But just six months later they were removed to "biosecure accommodation" amid fears that they might be infected with a deadly parasite that can affect humans and dogs.
Another Eurasian beaver imported from the same part of Germany was discovered to be carrying Echinococcus multiocularis (EM) – an infection from a parasitic tapeworm, which to date has not spread to the UK.
Some critics had warned of the dangers of reintroducing long-died out species, with the potential threat of damaging current eco-system and spreading disease.
Though rare, humans can catch EM by accidentally ingesting tapeworm eggs through coming into contact with infected wildlife or dogs, or through foraging.
A spokesperson for the Forestry Commission's Forest of Dean Community Rangers said at the time: "We appreciate that this latest news may come as a shock, but the trial will continue.
"Government testing for this disease found that a group of beavers imported from Germany had one animal which has since tested positive for EM, and as a result was euthanised.
"All beavers from this group currently in England, including our two beavers at Greathough Brook, will now need to be tested further for EM and rehomed in biosecure accommodation.
Forestry England will continue the monitoring of the hydrological and ecological changes the beavers make during the remainder of the trial.
Comments
To leave a comment you need to create an account. |
All comments 0