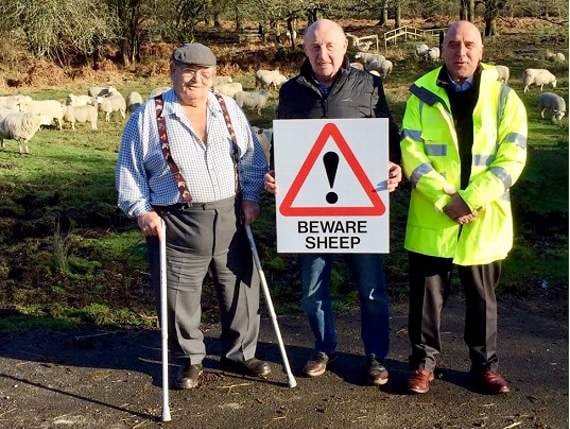 Brian Watkins, Terry Hale and Mick Holder with one of the new sheep road signs.
Subscribe newsletter
Subscribe to our email and get updates right in your inbox.
TWENTY new road signs warning of wandering sheep have appeared in the Forest since the start of the year.
The new signs, in addition to the permanent signs on all major access roads, are the result of a collaboration between Gloucestershire County Council Highways, Forestry England and the Commoners Association.
They're a reminder that while the speed limit is 60mph on many roads, it is often unsafe to drive that fast, given the Forest's historic commoning rights that let sheep roam free.
Sheep need to cross the road to obtain water and move from one pasture area to another, especially at this time of year when forage is scarce.
Mick Holder, secretary of the Commoner's Association, says he receives, on average, one call per week about a road accident involving sheep or lambs.
He said: "We are very pleased to be associated with the Sheep Liaison Group and to have the opportunity to work together with all its members to support the ancient tradition of 'commoning', relevant to the situation today.
"People commented on the new signs within a few days of them being put up and are driving more carefully."
Brian Watkins, local highways manager for Gloucestershire County Council, added: "We are delighted to be part of the Sheep Liaison Group and to provide additional sheep road warning signs. We ask all road-users to be careful using the highway in this unique area."
Gloucestershire County Councillor for Lydbrook and Drybrook Terry Hale said: "In 2019, Gloucestershire County Council appointed a representative on the Sheep Liaison Group, and we are keen to support the long established tradition of sheep grazing in the Forest."
If you hit a sheep, you must stop and report the accident to police (call 999 to report an emergency, otherwise 101).
The police may contact other emergency services, Trading Standards, Forestry England or the Highways Department in order to provide the most appropriate assistance.
Dog walkers are also being asked to act responsibly and not allow their pets to run uncontrolled off lead, where sheep might be attacked, killed or take flight.
Ewes may abort if chased in late pregnancy, become separated from their lambs or run across the road unexpectedly.
Since the Charter of the Forest (Carta de Foresta) was granted in the 13th century, up to 5,000 sheep have grazed the 11,000 acres of open forest at any one time, helping to keep the grass verges, clearings and paths well 'mowed'
Over the centuries, this tradition helped support families by providing food, wool and revenue from the sale of lambs.
During the last foot and mouth outbreak in 2001, all the Forest's sheep were culled and they were not allowed back for 12 months.
As a result, many areas became so overgrown they still remain inaccessible to sheep today.
This has led to such a shortage of suitable grazing that the number of sheep has fallen to around 1,500.
Comments
To leave a comment you need to create an account. |
All comments 0