Twins mark special date
Tuesday 21st July 2015 10:00 pm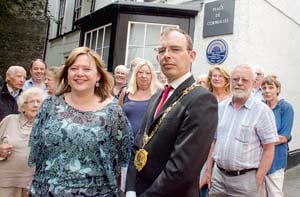 •Mayor of Chepstow Cllr Dale Rooke and Chepstow-Cormeilles Twinning Association chair Tracey Kinsey with association members and plaque creator Ned Heywood (right).
()
Subscribe newsletter
Subscribe to our email and get updates right in your inbox.
THE 40th anniversary of a twinning link between Chepstow and a town in Normandy has been marked with a plaque in the town centre.
Although Chepstow has only been twinned with Cormeilles since 1975, the links between the two towns stretches back 1,000 years to the Norman Conquest.
A plaque, designed and made by local ceramic artist Ned Heywood, was "unveiled" by the Mayor of Chepstow, Cllr Dale Rooke, on Saturday afternoon on the side of the Gatehouse building in Place de Cormeilles.
The plaque is decorated with the doorway detail from Chepstow's St Mary's Priory Church, which was founded between 1067 and 1071 for monks from the Benedictine monastery in Cormeilles.
A group from the Chepstow-Cormeilles Twinning Association will visit Normandy in August and present a similar plaque to be erected in the town centre there.
There is a road in the centre of Cormeilles called Avenue de Chepstow.
Twinning association chair, Tracey Kinsey said: "The plaque is really impressive. Ned designed, made and donated the plaque and another has been made for Cormeilles for them to put up in their square.
"We'll be taking it over when we visit in August and we've been told they have something special planned but they won't tell us what it is.
"We've tried harder to drive the twinning this year because we are struggling to get younger members and we have managed to get the community more involved.
"It's really important not to let the connection between Chepstow and Cormeilles disappear with the original people."
Chepstow people travel to France every other year and welcome French guests in the other.
The association runs a number of events throughout the year with the popular duck race being a particular highlight.
The twinning arrangement dates back to 1972 when Abbé Meron from Cormeilles visited Chepstow and met Canon Barrie Evans who organised a return visit to Normandy.
Three years Chepstow town council invited Cormeilles to become officially twinned.
The twinning oath was signed in Cormeilles in May 1976 by the mayors of the two towns and a copy is still on display in the Chepstow Town Council chamber.
Cllr Rooke said: "The cultural bond between us is growing and changing and the more we can introduce people to the differences between us the better it will be for all."
Comments
To leave a comment you need to create an account. |
All comments 0